Iris Marie Heinzig Erickson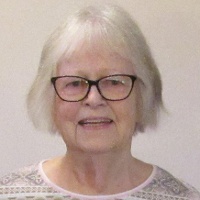 February 06, 1938 – August 08, 2019
Iris Marie Heinzig Erickson passed away at the age of 81 on Thursday, August 8, 2019. She was born on February 6, 1938, in Hohenstein Ernstthal-Saxony Germany to Walter Kurt and Gertrud Marie (Geiler) Heinzig. Iris was baptized as a member of the Church of Jesus Christ of Latter-Day Saints on August 28, 1946. To escape communist persecution, the family fled East Germany in 1952 and arrived in Lehi, Utah in May 1954. Iris graduated from Lehi High School in 1956 and then attended Brigham Young University. On March 21, 1958, Iris married her high school sweetheart, Gerald (Jerry) LeRoy Erickson in the Salt Lake LDS Temple. They raised two daughters, Barbara and Kim, and two sons, Alan and Robert.
Iris was blessed to be a homemaker. As a talented seamstress, she provided clothes for her children as well as beautiful doll clothing. She was an exceptional cook, canning vegetables and fruits grown in the family garden. She also enjoyed needlepoint and crocheting.
Iris was preceded in death by her mother, Gertrud Marie Geiler Heinzig, father, Walter Kurt Heinzig, and brother, Gert Gunther Heinzig. She is survived by her husband Gerald (Jerry) LeRoy Erickson, children Jerry Alan Erickson (Leslie), Barbara Ann Erickson, Kim Iris Erickson Holindrake (Russell), and Robert Alma Erickson as well as 10 grandchildren and 7 great-grandchildren.
A viewing will be held on Friday, August 16, 2019, from 6 to 8 p.m. at Wing Mortuary, 118 East Main, Lehi, Utah. the Funeral service will be held on Saturday, August 17, 2019, at 11 a.m. with a prior viewing at 10 a.m. held at the Church of Jesus Christ of Latter-day Saints, Lehi East Stake Center, 851 North 1200 East, Lehi, Utah. Flowers may be sent to Wing Mortuary.
Interment, Lehi City Cemetery.