Former Miss Lehi wins UVU crown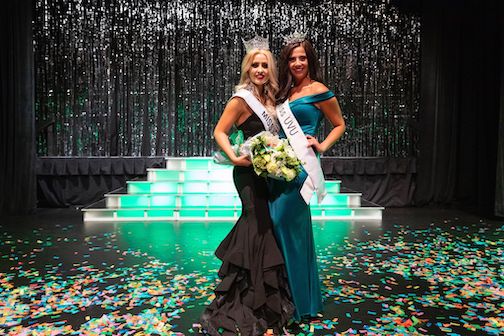 The 2020 Miss Utah Valley University was crowned on Monday, September 23, after an impressive pageant that included the most diverse contestants in the almost 40 years of the program. Kadee Jo Jones, Lehi High School graduate and former Miss Lehi, won the title of Miss UVU and a one-year scholarship to continue her education at the university.
Jones has been working on campus for the Vice President of University Relations, Cameron K. Martin for the last year, where she has grown to love the university and developed a desire to help professors and students. Participating in the Miss UVU pageant wasn't on Jones's radar until Miss UVU 2019 Addison Black approached Jones at the Lehi Round-Up parade over the summer and encouraged her to go for it.
This is the first independent Miss UVU pageant. As they explained on their website, "Historically the pageant has been affiliated with the Miss America organization but with so many changes within the pageant community and UVU's dedication to inclusivity, the Department of Student Leadership and Involvement has made the decision to establish Miss UVU as an independent pageant." The Miss UVU pageant is now open to a wider range of students with a focus on the impact they can make on campus, and the areas of the competition have been expanded to emphasize the importance of being informed about current events, the ability to clearly communicate and articulate personal thoughts and opinions, and professionally present themselves through their talent and public appearances.
In her work with the University Relations office, Jones heard many of UVU's professors discuss their students' inability to express themselves in writing. She combined her journalism background and her work in social media to create her Campus Impact Initiative, the Wolverine Writing Campaign. Jones plans to create YouTube videos and social media accounts connected to the university teaching students how to construct sentences and cite sources. "These are things they haven't grasped in high school and that they need to know in college and as they go into the workforce," said Jones.
The now independent Miss UVU pageant still includes a private interview, talent, onstage question, and eveningwear, but the organizers have added academic standing and Campus Impact Initiative to the areas of competition. Jones polished her Miss Utah Pageant piano number for her talent and used her black Miss Lehi gown again for the eveningwear. For her onstage question Jones was asked, "Who is someone you admire or look up to because of something they have done?"
"That was an easy answer for me – I look up to my sister Kassadee, who recently won Miss Rodeo Utah. Queening didn't always come easy to her and it's been so fun to watch her riding and public speaking skills grow over the last seven years," remembered Jones.
"I love UVU! They have truly invested in my education and given me so many opportunities. I'm excited to serve here as Miss UVU," said Jones.