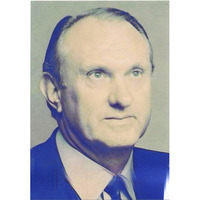 September 10, 1936 – November 04, 2019
Mason Bradley Sharpe Jr. of Lehi, Utah passed away peacefully at his home on Monday, November 4, 2019.
There will be private Graveside Service for the family at the Lehi City Cemetery. Following this, there will be a celebration of his life held for all who wish to honor him at the LDS Stake Center Building, 851 North 1200 East, Lehi, Utah on Saturday, November 9, 2019, starting at 2:00 PM.
Mason was born and raised in Charlotte, North Carolina. He joined the United States Army during the Korean War. When he returned from Korea, he was stationed at Dugway Proving Ground. While he was stationed there, he met Doreen Clark of Lehi, Utah. They were married in 1956 in Lehi, Utah.
He was a career military man and served honorably in the United States Army until his retirement. Mason was a highly decorated veteran of the Korean War, and also the Vietnam War. He was a lifetime member of the Disabled American Veterans and the Veterans of Foreign Wars.
After his retirement, he worked for the FAA, and the Alpine School District as a bus driver. As a bus driver, he made many friends, both co-workers, and the students who rode his bus. Mason never forgot the students that rode his bus and could tell you who they were even years later.
He is survived by his wife Doreen, daughters; Kathy and Joni, his son Tony, as well as many grandchildren and great-grandchildren.
Graveside Service
Saturday, November 09, 2019
1:00 PM
Lehi City Cemetery
1100 North 400 East
Lehi, Utah 84043