Top Lehi stories of 2020: (#6) Dry Creek Lake makes significant progress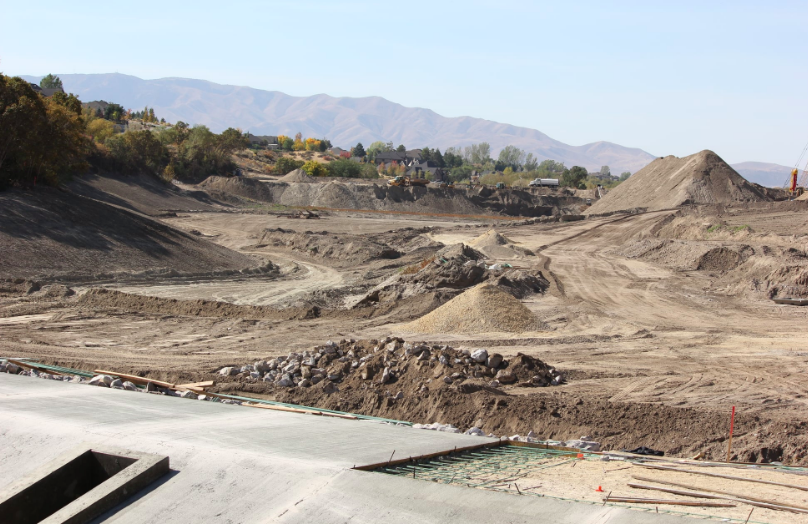 Dry Creek Lake has gone from being a big idea to a reality during the last 12 months. On 55-acres on the boundary between Highland City and Lehi City, the reservoir will serve as a regional park with fishing, swimming, kayaking, and paddle boarding. In 2020, the Dry Creek Lake project won a Utah Outdoor Recreation Grant of $150,000, and the National Watershed Coalition profiled it.
"This checks so many boxes for Lehi – flood control, water storage for our pressurized irrigation system, and unique recreation opportunities. The Parks Department and City staff have looked at parks like this in other communities and asked about their challenges. They've really done their homework," said City Councilwoman Paige Albrecht in an interview early in 2020.
The land surrounding Dry Creek Lake is owned by the North Utah County Water Conservancy District, but Lehi City will maintain the reservoir and develop shoreline improvements, including a parking lot, docks, pavilions, and sandy beach. A boundary adjustment was made with Highland City at the border of the two cities south of SR-92. The new border goes right down the middle of the lake (north to south) and will allow Lehi City to develop the northwest shoreline. Highland City will be responsible for maintenance along the lake's east side, while Lehi City will be responsible for the west side.
In a November City Council meeting, Jason Bond from the Lehi City Parks Department showed the council an updated design plan and announced several new features, including grassy areas up to the water's edge, to complement already planned sandy beach areas. Other recreational additions include multiple fishing docks and numerous pavilions that will be available for residents to reserve. Bond also announced the lake would be accessed with a one-way in and one-way out traffic flow on the southwest corner.
The water retention and utility part of the Dry Creek Lake project is fully funded and on schedule, but the city is trying to close a $1.5 million funding gap with possible paid parking, non-motorized boat rentals and food and beverage sales. The concession idea met with resistance, but ultimately the City Council gave the Parks Department a positive recommendation toward designing and planning concession facilities.
City officials say Dry Creek Lake will be completed by April 2021.