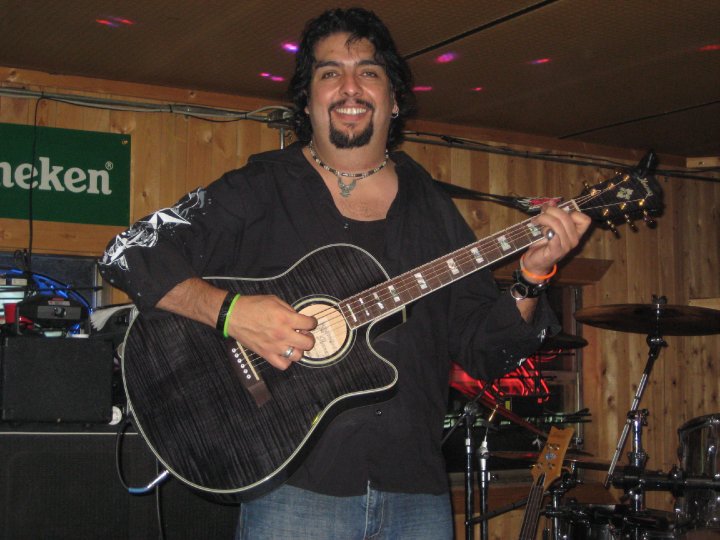 I'm a pretty mediocre guitar player. I console and encourage myself that I'm better than the 5 billion people on earth who DON'T play guitar. Weak, I know, but it keeps me playing. What I AM good at is buying and selling guitars. After a few years of playing I got serious enough about guitar to learn to wrench on them.
I learned to adjust saddles and nuts and truss-rods. I discovered that most of the guitars I had sitting around could be significantly improved with a little tweaking. This discovery led to a significant increase in my enjoyment of the hobby. I started playing more because my guitars sounded better and were easier to play. I also started buying more guitars – because, well, that's what you do when you play guitar.
After a couple years of buying guitars, I discovered two things. First, a lot of guitars take up a lot of space. The room intended to store my guitars no longer held my collection. There were guitars stuffed in pretty much every corner and closet in my house. Second, wives don't do math the same as guitar owners. Wives ask "How many guitars do you need?" The answer is always "Just one more!" At this point, I think I had 34 guitars. I was playing about 30 minutes a week
The year I got a Christmas card from FedEx, I realized that maybe it was time to do something about my growing guitar problem. Not buying guitars was NOT an option. That was just crazy talk. So my only option was to sell some guitars. At least get the outgoing rate to match the incoming rate. No problem, I sell stuff all the time. KSL.com and eBay, here I come.
I listed the guitars that I hadn't touched in at least a year. I sold a few pretty quickly, which was good. The bad thing was now that I was looking at the guitar section on KSL.com, I had bought three more than I'd sold. Oops. Post more, sell more, buy a few. Slowly, I was gaining back some of the house. Over a three-year period, I sold 48 guitars and 44 guitar amps. Man, it was awesome. I got to try a lot of great guitars and amps. Marshalls, Fenders, Gibsons, Martins.
One chilly day in February, 2011, a guy showed up to look at a sweet Washburn jumbo acoustic I was selling. He was a big dude, wearing some leather, with a few tattoos showing. He looked like a cross between Elvis and Johnny Cash. He sat down and strummed a couple melodies. He was playing stuff I loved and seemed to be playing on about the same level I was. I could tell he was digging my guitar and I figured he'd be leaving with it.
The big guy then played the intro riff to Tesla's "What You Give." I love the song & knew the intro. He played it a little differently than I did so I pulled out another guitar and played the intro for him. We compared the various hammer-ons & pull-offs in the riff and before long we were engaged in a long conversation about the music and guitars we both love.
Whenever I meet someone who plays well I always ask if they play in public. I love live music and especially love it when it's played by someone I know. I asked the big guy and he said he played in a band named Spanky's Garage Band and that they played at Scorez in Lehi regularly. I asked when they were next playing and told him I'd be there. He bought the guitar.
A few weeks later I was at Scorez on a Friday night watching Big John Amador tear up the stage. John is a good guitar player, and he is a GREAT front man. Wow, the dude can sing! It was thrilling to watch John on stage, playing my guitar, whipping the crowd into a frenzy. I caught John on a break and congratulated him on the band sounding so great. There may have been some fawning… I stayed through the set, then went home and sent John a Facebook friend invite. He accepted and we started chatting regularly, talking guitars, music and life.
One day John posted on Facebook about passing a Networking Certification test. I work in the IT industry and had several job openings that I was struggling to fill. I chatted up John again, this time to ask what he was doing for work. Turned out he was doing field service for Dell computers. Perfect. I invited John to lunch and popped the question. Two weeks later he joined me at the company where he still works as Director of Services.
I grew up west of Lehi, white bread and conservative, exactly like everyone I knew. Selling guitars has been an unexpected cultural lesson. Something as simple as selling a guitar led to meeting my brother, Big John Amador. I am a better man in countless ways for having him in my life. I've met dozens of incredible musicians and had the pleasure of seeing my guitars on stages all over Utah. Every one with a unique story and history. It is a thrill to be part of those stories.
I currently have 12 guitars and 9 amps. I'm looking forward to selling some of those and meeting more kindred spirits, wrapped in a variety of people.