OPINION: Taylor Swift's New Eras Tour left us amazed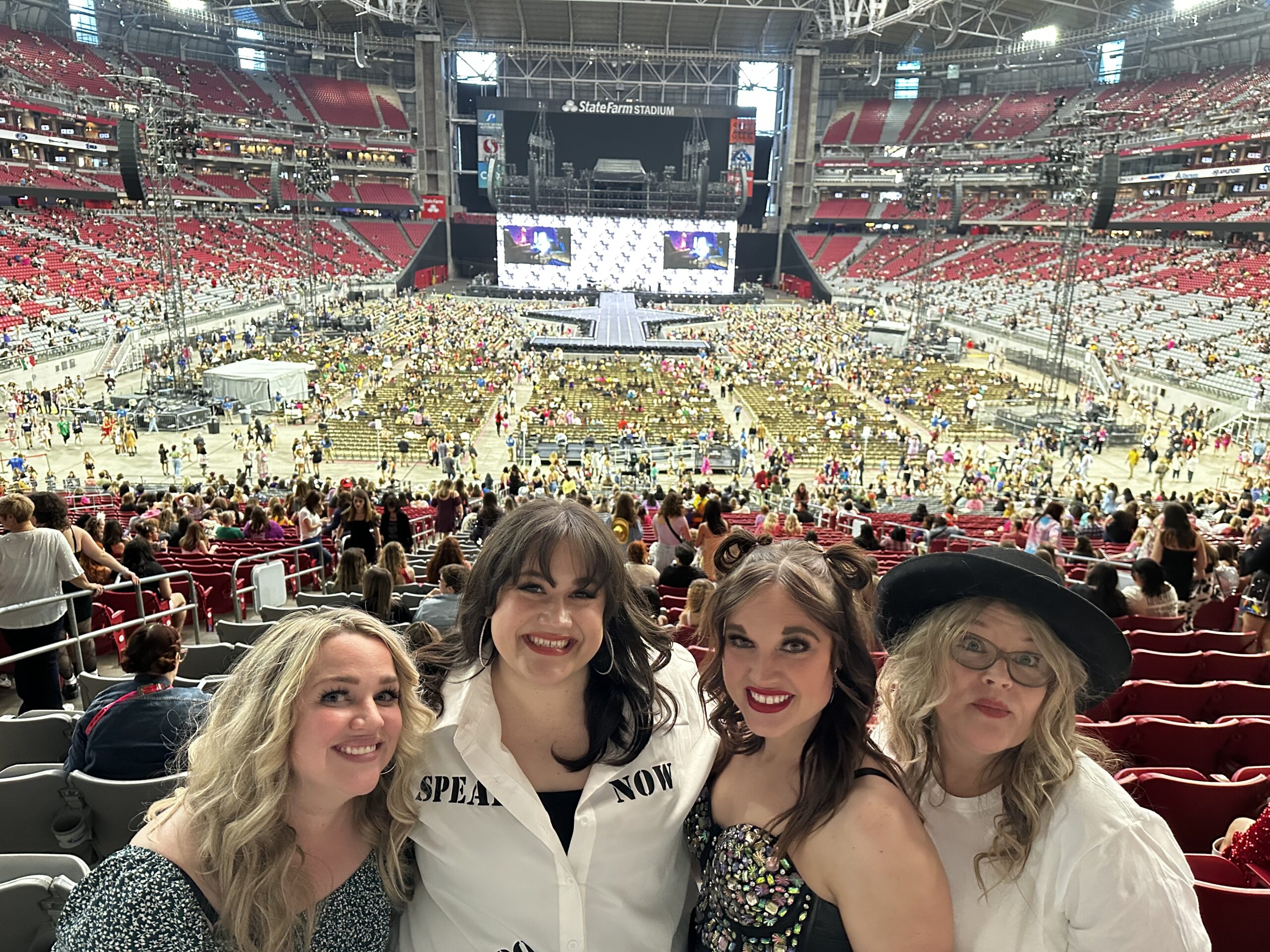 In her first tour in five years, singer-songwriter Taylor Swift kicked off The New Eras Tour in a thrilling manner with an epic, fan-pleasing 44-song set, extravagant staging, and stunning costumes. Swift comfortably dominated the stage inside the State Farm Stadium in Glendale, "ERAzona," and performed for over three hours without a break.
Seventy thousand energized fans turned out in full force for the Eras Tour opening night concert, and no one seemed to leave disappointed.
Swift's performance was unforgettable, some say life-changing, and she drew in hundreds of thousands of lucky fans, each of whom battled Ticketmaster successfully and won a coveted seat. The first night of the performance was a historical event withSwift's impressive production, which was more of a Broadway spectacular than a concert, including multiple set changes.
Hannah Thomas of Lehi said, "The Taylor Swift concert was amazing and a life-changing experience. For over three hours, Swift sang all eras of her discography and performed 44 songs. Not only was the music incredible, but the production value was mind-blowing from the lighting to the costumes to the choreography to the visuals in the background."
Swift tackled each period of her career throughout the concert — the dynamic ones and the delicate ones — with great enthusiasm, all while dancing in red-soled Louis Vuitton jeweled boots and wearing costumes covered in glitter, fringe or glittery fringe. Her wardrobe also included ethereal dresses and a pink, sparkling ball gown.
"The concert was one of the best nights of my life. Watching her sing and perform in all ways for over three hours was impressive. I've never seen an artist do this before. Her stamina blew my mind, and that doesn't account for all of the beautiful costume changes and her ability to keep going," said Caitlin Thomas, who attended the concert on opening night.
"My favorite moment of the concert was when Taylor Swift came on stage wearing the same outfit as my mom wore to the concert because I looked at my mom, and she pointed at herself and said, "Hi, it's me…."
A touching moment during the show was when Swift broke down in tears in an emotional tribute to her late grandmother while performing "Marjorie." Swift's grandmother was an opera singer, and the song performance included Marjorie's vocals in the background, making the moment even more poignant, touching the hearts of all 70,000 fans.
The dancers were terrific. The backup vocalists were talented,and the band's ability to keep going added to the experience. Watching her live performance of some of her songs that are important to me was very emotional. Throughout the concert,we went from emotional moments to dancing, cheering, and talking about "how we are never getting back together," said Caitlin Thomas.
During an acoustic segment, Swift came out to the farthest point of the stage, sat at a small piano and played her very first single, "Tim McGraw," which was meaningful for Swifties.
"My favorite moment was when Taylor sang Mirrorball in an acoustic set, and I cried my eyes out as it was so touching," said Hannah Thomas.
Swift opened the show strong with songs from "Lover." She didn't hold back while performing "The Man" in full office cosplay. She strategically closed the concert with "Karma," which left the fans feeling good about life.
14-year-old Allie Brown of Lehi attended Swift's Era tour during the second week in Las Vegas. This was her very first concert, and after such an incredible show, nothing will compare.
"I was so excited and knew it would be great. But it wasn't just great; it was absolutely incredible," said Brown.
"Taylor had a ton of very quick costume changes. They were all gorgeous, especially the breathtaking ball gown she wore for Enchanted. She gave an unbeatable performance with her costumes, choreography and gorgeous voice, never missing a note," added Brown.
Kristin Barrus of Lehi surprised her daughter Zoe with tickets to the second show in Arizona.
Barrus said, "I'm not a Swifty, but I was blown away by Taylor's stamina to sing for three and a half hours, the technology involved in the show, and her extensive and well-designed wardrobe. I have a bigger appreciation for all she is doing as an artist."
"We were there for over seven hours, so it was physically exhausting, but I would do it all again right now. It was fun to visit with strangers at the venue. Everyone was really friendly,and the cosplay was amazing, including my daughter's," added Barrus.
Courtney Thompson, formerly of Lehi, attended the concert on opening night. She said, "There is something special about being in the same place with 70,000 people all collectively crying and screaming at the same time and every single person knowing which song was about to be played by the first note."
For all the Swifties who were fortunate to get a golden ticket to The Eras Tour, it is worth the time, the travel, and shuffling through the large crowd for an incredible night of dancing, singing, and heart-touching moments in which you will leave better than you when you arrived.