Peter Pan at Lehi Junior High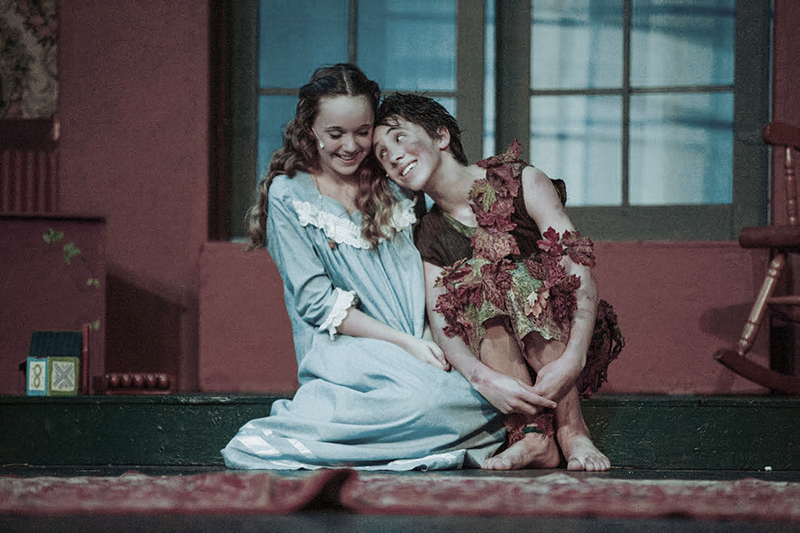 Melani Boren, drama teacher at Lehi Junior High, has revived and improved an adaptation of "Peter Pan" she co-wrote with her sister, Jessica B. Higginbotham, seven years ago. Students from Lehi Junior High and Skyridge High School are putting on the production at Lehi Junior High on the 2nd, 3rd, and 4th of February at 7:00 PM with a matinee on Saturday at 1:00 p.m.
Boren was able to use the basic set design she used seven years ago, but they "improved the awesomeness" with more moving parts on stage. The students are involved in every aspect of the production, from acting and directing scenes to applying make-up. The printed program, complete with biographies of every student connected to the play, was even designed by students Caroline Whitehead and Allyson Wright. Mary Ahlstrom and Ryan Bell, both sophomores at Skyridge, came back to Lehi Junior High to direct a few scenes in "Peter Pan." Boren had a particular young man in mind to play Peter, but Joey Pierson ended up surprising her with his audition. Boren treats all her current and former students as part of a big family, they're all happy to be a part of the show.
Three days after the final performance of "Peter Pan," director Melani Boren is getting married. Boren's siblings, parents, fiancé, former and current students have spent many hours helping her with the show and planning her wedding during the last few months.  The love that has gone into Lehi Junior High's "Peter Pan" is evident on the stage and behind the scenes.