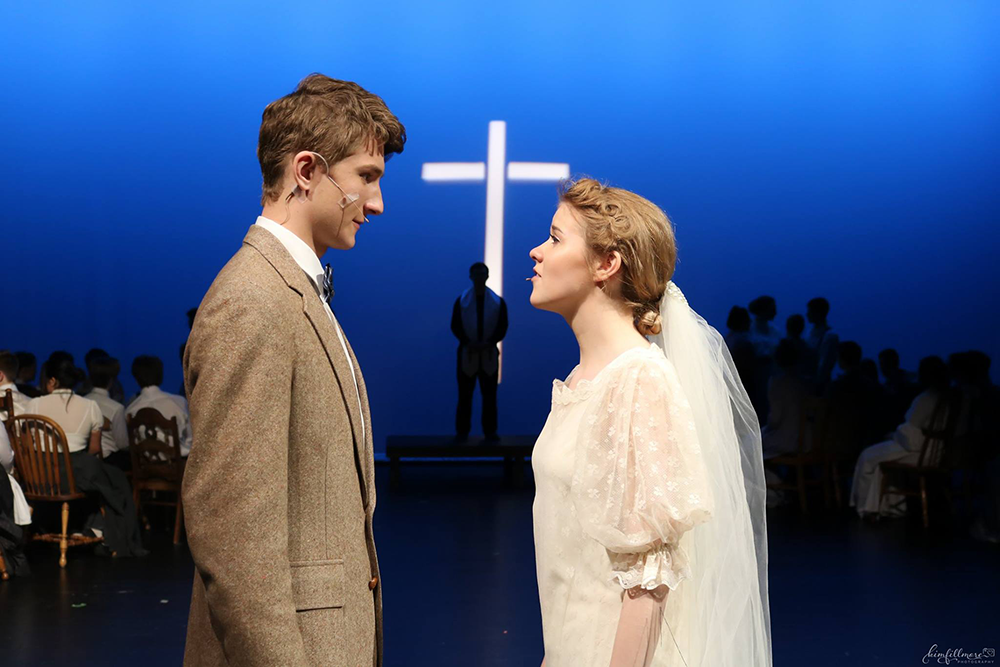 Skyridge High School presented Thornton Wilder's "Our Town," the school's first straight play, last week, February 9 – 14.
The stage was empty except for two kitchen tables with a few chairs and pieces of wood to represent the front doors of the Gibb and Webb houses. When Emily and George were in their "upstairs" bedrooms, actors Rhiannon Gray (as Emily Webb) and Parley Lambert (as George Gibbs) sat on top of a couple of rickety-looking wood ladders and mimed opening and closing windows as they talked. While other action was going on onstage, Gray and Lambert sat perfectly still in the "moonlight" making beautiful silhouettes.
"Our Town" tells the story of a small town, Grover's Corner, New Hampshire, between 1901 and 1913. It's not just nostalgia, though. As director John C. Brown says in the program, "The play is a thoughtful examination of people, and of their inability to recognize that the mundane details matter, and the minute particulars are important. Although life is typically evaluated in its totality – as a singular article – it comprises tens of thousands of unique and seemingly inconsequential moments. It is these moments that not only make up our lives, but give it context, content and value."
The spare stage and minimal props gave the audience a chance to soak in the words and feeling of the play. During scenes when the church choir was practicing offstage, the ensemble actors were standing in the hall singing hymns a capella. It was one of many simple effects that made the production so enjoyable.
"In 'Our Town' we may learn the eternal lesson that we should appreciate the beauty of the present and the pleasure of the everyday moments," said Brown.