Lehi Artist Finds Beauty Close to Home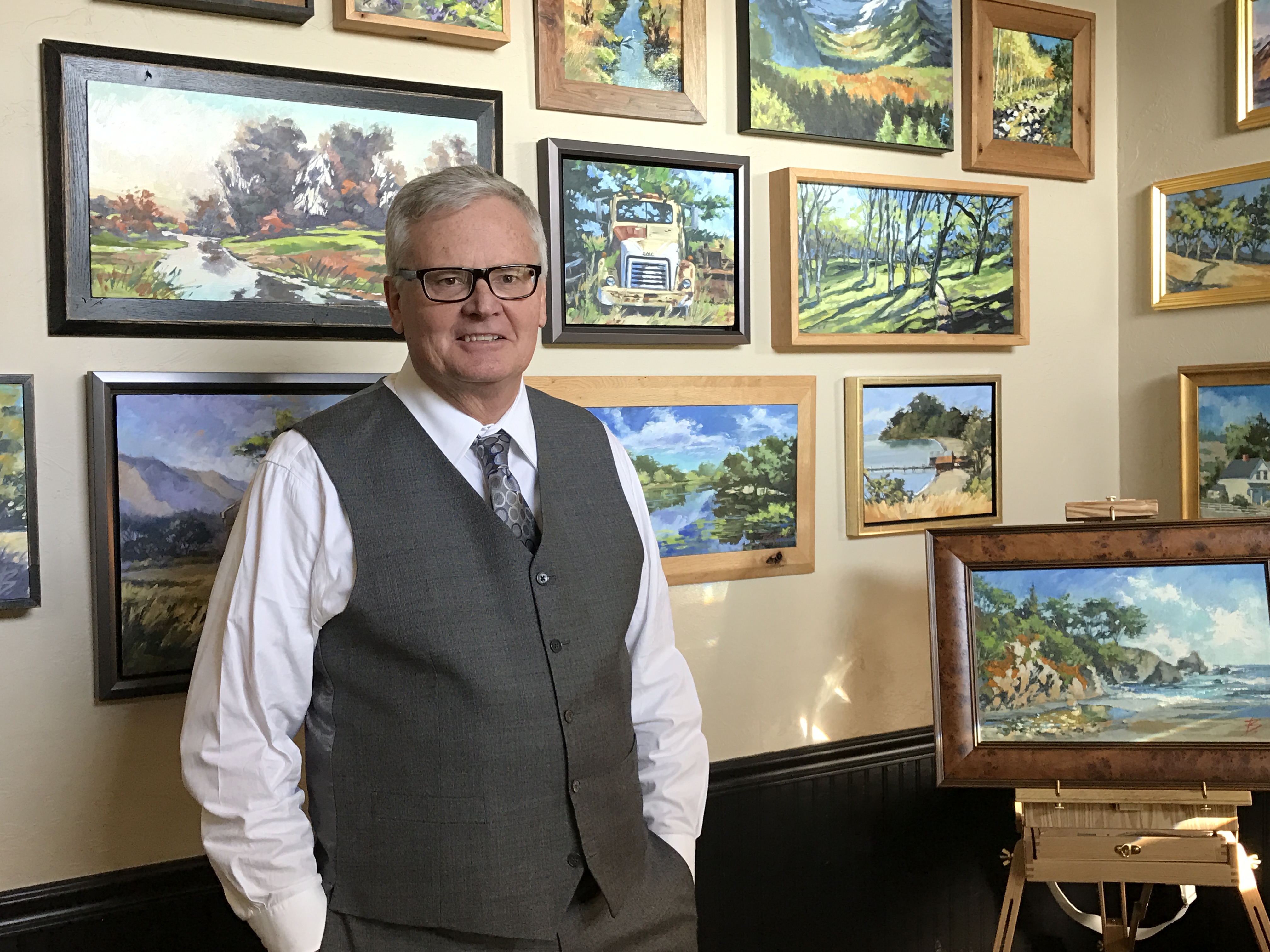 Conrad Scott Bevan describes himself as a daydreamer. He was always the kid in school doodling and sketching instead of doing his work. While some people get stressed out by the challenge of filling a blank piece of paper, it represents endless possibilities to Bevan.
Although he had some artistic ability as a child, Bevan never really thought of it as a skill. He went on a mission for the Church of Jesus Christ of Latter-day Saints and when he came home he decided to attend Brigham Young University even though he had absolutely no idea what he wanted to study.
That all changed when he took a design for Non-Majors class as a Humanities elective. One of the assignments was to buy some markers and design imaginary products. Bevan thought it was the best project he had ever been assigned. Apparently his professor saw something he liked, because he walked Bevan down the hall of the Brigham Young Academy building and threw open the door to the Industrial Design classroom to usher him in. At that moment Bevan knew he had found his passion.
One of the part-time professors in the Industrial Design program encouraged Bevan to apply to the Art Center College of Design in Pasadena, California. He was accepted and received a Chrysler Scholarship. He loved the educational and artistic opportunities he received there, but during his schooling he and his wife Karen discovered their thirteen-month-old daughter had leukemia.
Her sickness, combined with a job offer promising help with medical expenses, brought the family back to Utah for a few years. It wasn't long before a job offer with a prestigious design firm in San Francisco took the Bevans back to California for 30 years. Bevan honed his skills in strategic design and branding with three international firms before he began his own Bay Area company called StudioAttune.
Exactly one year ago the family moved to Lehi. Bevan continues to work with clients in California while growing his business here in Utah.
However, he says, "I'm a designer by training, an artist by passion." One of his friends had been encouraging him to explore painting for years but it wasn't until three years ago that Bevan was finally motivated to dive in head first. He works exclusively in oils and focuses on landscapes. His style is loose and splashy and he tries to paint every day to improve his skill. He loves the quote: "Too much reality in a picture is always a disappointment to the imaginative soul. We love suggestion and not hard facts," by the artist John F. Carlson.
Although he prefers to photograph scenes and then paint them in his comfortable studio, he is taken with the concept of Plein Air (outdoor) painting and has been pushing himself to improve in that discipline. Last fall Bevan participated in Plein Air Moab where he received third place in the Quick Draw category and an Honorable Mention overall.
The red rocks of southern Utah have captivated Bevan's painting as of late, yet there are plenty of paintings of Mt. Timpanogos at all times of day as well as scenes from Lehi and the surrounding area in various states of completion around his studio.
His work was accepted in the Spring Salon at the Springville Museum of Art last year and he has several paintings on display in the Canyon Gallery in Fruit Heights, but he is always on the hunt for more outlets for his work. Bevan's artwork can be seen at his website ScottBevanFineArt.com and he welcomes anyone interested to see the gallery in his home.