Mildred Arvella Smart Latimer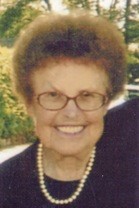 Mildred Arvella Smart Latimer of Lehi, Utah passed away peacefully at her home October 7, 2017. She was born April 14, 1925 in Salt Lake City to Nephi Earl Smart and Agnes Smith Smart.
She graduated from Granite High in 1943 and later received her associates degree at the University of Utah. Mildred married her high school sweetheart Russell A. Latimer August 16, 1946. They were married for 71 years.
She was a faithful member of The Church of Jesus Christ of Latter-day Saints. She held many positions and served in the Mt. Timpanogos Temple for 18 years.
She is preceded in death by her parents, two brothers, two sisters and one son. She is survived by her husband three sons, two daughters and her grandchildren.
Graveside services will be held at the Lehi City Cemetery, 1100 North 400 East, Lehi, Utah on Friday, October 13, 2017 at 12:00 PM. Online guest book at wingmortuary.com.