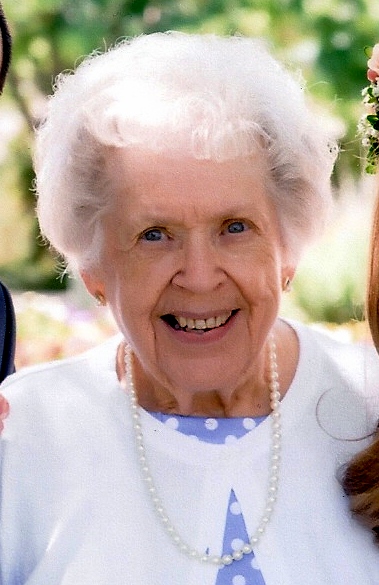 On November 19, 2017, Zina Thacker Jenkins passed peacefully from this life to the soothing strains of "God Be with You 'til We Meet Again," heard at the end of the Mormon Tabernacle Choir's weekly broadcast. She was 90 years old, and anxious to be reunited with Lars, her eternal companion.
Zina was born September 7, 1927, in Provo, Utah, to Ralph Alonzo and Ethel Jemima Jacklin Thacker. She lived her first few years in Moroni, Utah, and then the family moved to Daniel, Utah, where they stayed. As a child of the Great Depression and growing up in a family with a small farm, Zina learned frugality, hard work, and self-reliance.
After World War II, she met Lars Elwin Jenkins, and they were married September 22, 1948, in the Salt Lake Temple. Lars became a high school science teacher, and they lived in Park City, Utah, and Cheyenne, Wyoming, before they settled in Lehi, Utah in 1952.
Zina and Lars finished out their years in Lehi, where Zina was active in church, school, and community. She loved working in the Primary and served as Stake Primary President. They never had a lot of money, but they had a happy home. Zina loved to bake bread. On Sunday nights after church the family had a tradition of having hot cocoa and toast made from her homemade bread for dinner. Zina also made canning fruits and vegetables a family affair each year. The family lived in Stillwater, Oklahoma one summer while Lars pursued graduate studies, and created lasting memories from this trip and from many simple family vacations to Yellowstone, California, Canada, many national parks, the World's Fair, and other places.
Zina worked for many years at the State Bank of Lehi. In 1986 she and Lars retired together and promptly left to serve a family history mission for the LDS Church in the Philippines. Later they served a leadership mission to Fiji. She and Lars also worked for 13 years at the Provo and Mount Timpanogos LDS temples. She remained firmly rooted in her testimony of the restored gospel of Jesus Christ, and wanted nothing more than to have her children, grandchildren, and great-grandchildren together as a forever family.
Zina is survived by her six children: June (Larry) Presser, Annette (Rex) Hadlock, Kathy (Gary) Shaw, Keith (Chris) Jenkins, Larry (Leslie) Jenkins, and Craig (Corinne) Jenkins. She is also survived by 30 grandchildren, 64 great-grandchildren, and at least two more on the way. She is also survived by her siblings Hilda Patterson, Lynn (Cheryl) Thacker, and Reed (Kathleen) Thacker. She was preceded in death by Lars, her parents, and siblings Dona Sweat, Vida Thacker, and Ralph L. Thacker.
At Zina's request there was no public viewing. Her family and friends honored her at memorial services held Monday, November 27, 2017. In lieu of flowers, please make a donation in her name to LDS Church Humanitarian Services.