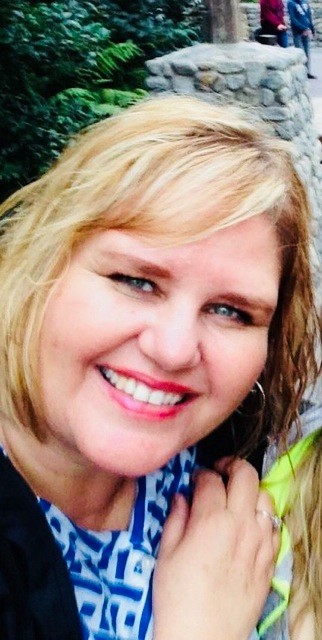 Cinda Lee Martin
Cinda Lee Martin returned to her heavenly parents after a seven-year battle with breast cancer on January 24, 2018, surrounded by her loving family and dear friends. She was born May 17, 1966 in Wilcox, Arizona to Michael and Barbara Petersen and was the oldest of four children. Cinda graduated from Elko High School in 1984 and attended Ricks College, where she met her "hot honey" Scott Danien Martin. Their connection was instant. Scott and Cinda were married on December 2, 1986 in Springville, Utah. Together they raised seven beautiful babies.
Cinda grew up in the Los Angeles area where she spent her days playing on the beach with her siblings. In the 6th grade her family relocated to Elko, Nevada. Cinda enjoyed competing on her high school's swim team and was also a member of the drill team. As a teenager, one of her favorite activities was to drag Main Street with her friends and sister—a pastime she continued to enjoy while speeding through roundabouts as "Grandma Dre."
Cinda dreamed of becoming a nurse and earned her Associates Degree in Nursing in 2011. Before her passing, she was a school nurse for the Utah County Health Department. In this role she was adored by the many children she comforted and stole the hearts of all who had the opportunity to work with her. Cinda was a faithful member of The Church of Jesus Christ of Latter-day Saints. The faith she had in her Savior carried her through the many trials she faced in life.
Cinda was a loving wife and mother, and a true friend to everyone she met. To know her was to love her. She was affectionately known as "Dre" by her loved ones. Cinda was constantly looking for ways to serve others and take care of those in need. Family and friends will certainly miss her warm heart and infamous hugs.
She is survived by her loving and devoted husband, Scott; children Bailey (Carlos), Jordan (Sean), David (Breanne), Elija, Joshua, and Joseph; daughter-in-love Kiri Martin; grandbabies Ashton, Kyson, Penelope, Sawyer, and Winslow; parents Michael and Barbara Petersen; sister Heather Bird; and brothers Chuck and Jason Petersen.
Cinda is welcomed home by her oldest son Danien, her aunt Shirley Brennan, and her mother-in-law Danielle Huffman.
A viewing will be held Friday, February 2, 2018 from 6-8 p.m. A second viewing will be held Saturday, February 3, 2018 from 9:30-10:30 a.m., after which funeral services will commence at 11 a.m. Both viewings and funeral services will be held at the LDS meetinghouse at 1631 E 900 N, Lehi. Interment Lehi City Cemetery.
The family would like to convey their deepest gratitude to Dr. Nathan Rich, nurses Colette Bullock and Jayme Covington, and staff at the Utah Valley Cancer Center for the wonderful care they provided Cinda.