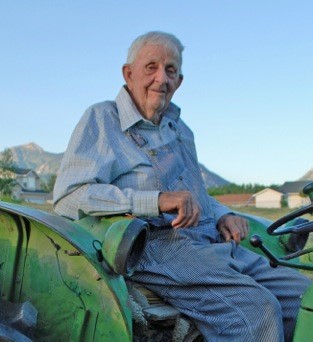 Jack Lester Hansen
Jack Lester Hansen passed away January 27, 2018 in American Fork, Utah. He was born December 1, 1920 in Bear River City, Utah to Oliver Hans Hansen and Melvina Lewis. Jack was number 8 of 11 children.
Jack attended high school in Brigham City. He joined the Air Force where he served as an airplane and engine mechanic and received his Electrical Degree.
He served an LDS mission in Denmark where he met and later married Ruth Seegert. They moved to Oregon where they had three children. He later divorced and moved to Utah and married Lila Cossey. They were married from 1982 to 2010, when she passed away.
Jack is survived by five daughters; Jacklyn Anderson, Ingrid Hansen, Caroline Hansen, Diane Schmidt and Sheila Hales, a sister, Colleen Harris, 29 grandchildren, 50 great-grandchildren and 12 great great-grandchildren.
He was preceded in death by his parents, two wives, daughter Sherrie (John) Bendowski, great-grandson Jacob Broadbent and nine brothers and sisters.
Funeral services will be held Monday, February 5, 2018 at 11 a.m. in the Sego Lily Chapel, 700 East 900 North, Lehi, Utah. A viewing will be held from 6-8 p.m. Sunday evening at Wing Mortuary, 118 East Main, Lehi, Utah and one hour prior to the service on Monday morning. Interment, Lehi City Cemetery. Online guest book at wingmortuary.com.
In lieu of flowers donations can be made to the Lehi Senior Center.