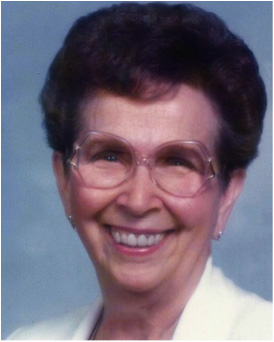 Edith Roberts
An extraordinary and great lady has just left this mortal life. She was petite in stature, but a giant in spirit. Edith Vivian Richan Roberts passed away on January 8, 2018 at age 93. Edith was born in American Fork, Utah, to William and Matilda Richan on October 21, 1924. Even as a young girl she was meticulous in her personal appearance, indeed in everything she did, and has continued throughout her life. No one makes a bed more thoroughly, and having a home and yard beautifully maintained as Edith. She married the love of her life, Virgil K. Roberts on June 5, 1942 and they walked hand in hand for 74 years, until Virgil passed away. Now, they are walking hand in hand again.
Their six wonderful children are: Dennis (Vickie) Roberts, Christine (Fred) Finlinson, JoAnn (Mike) Dubois, Elane (Rick) Palmer, Dave (Wendy) Roberts, Kelly (Marci) Roberts, Wendell and Lisa Blair who also called them Mom and Dad, plus 36 grandchildren, 84 great grandchildren and 4 great, great grandchildren. She was preceded in death by her husband Virgil, parents, son-in-law Merrill Fox, great grandson Christian Dubois, sister Gwen Adams, and brother Keith Richan. She has a brother, Blaine Richan and sister, Ila Thomas still living.
They owned and ran a successful construction company of which she was a great partner. In addition, their service for the Church of Jesus Christ of Latter-day Saints has been done tirelessly with honor and dignity. Together they served 4 missions and served over 20 consecutive years as temple workers in the Mesa, Arizona Temple. They held many positions in their wards and stakes and were constant examples of Christ-like attributes all their lives.
Upon retirement, Edith and Virgil spent many happy days at their cabin in Strawberry, Arizona and, until recently, enjoyed their beautiful home in Mesa. Edith will forever be remembered because she has touched and influenced so many people in so many ways. Her smile, positive attitude, and a lifetime of unselfish service to family and others will be greatly missed. The family would like to thank her devoted caregivers: Varie, Monica, Viviana, Bing, Glenda, Francine, Juanna, Ken, Tom, and many others. Edith will be laid to rest in the Lehi Cemetery with services in the Lehi LDS Chapel located at 300 West State St., Lehi, Utah on January 27, 2018. Receiving line from 12:30 to 1 p.m. followed by services at 1 p.m. We will say so long Mom, until we meet again. We love you. Online guest book at wingmortuary.com.