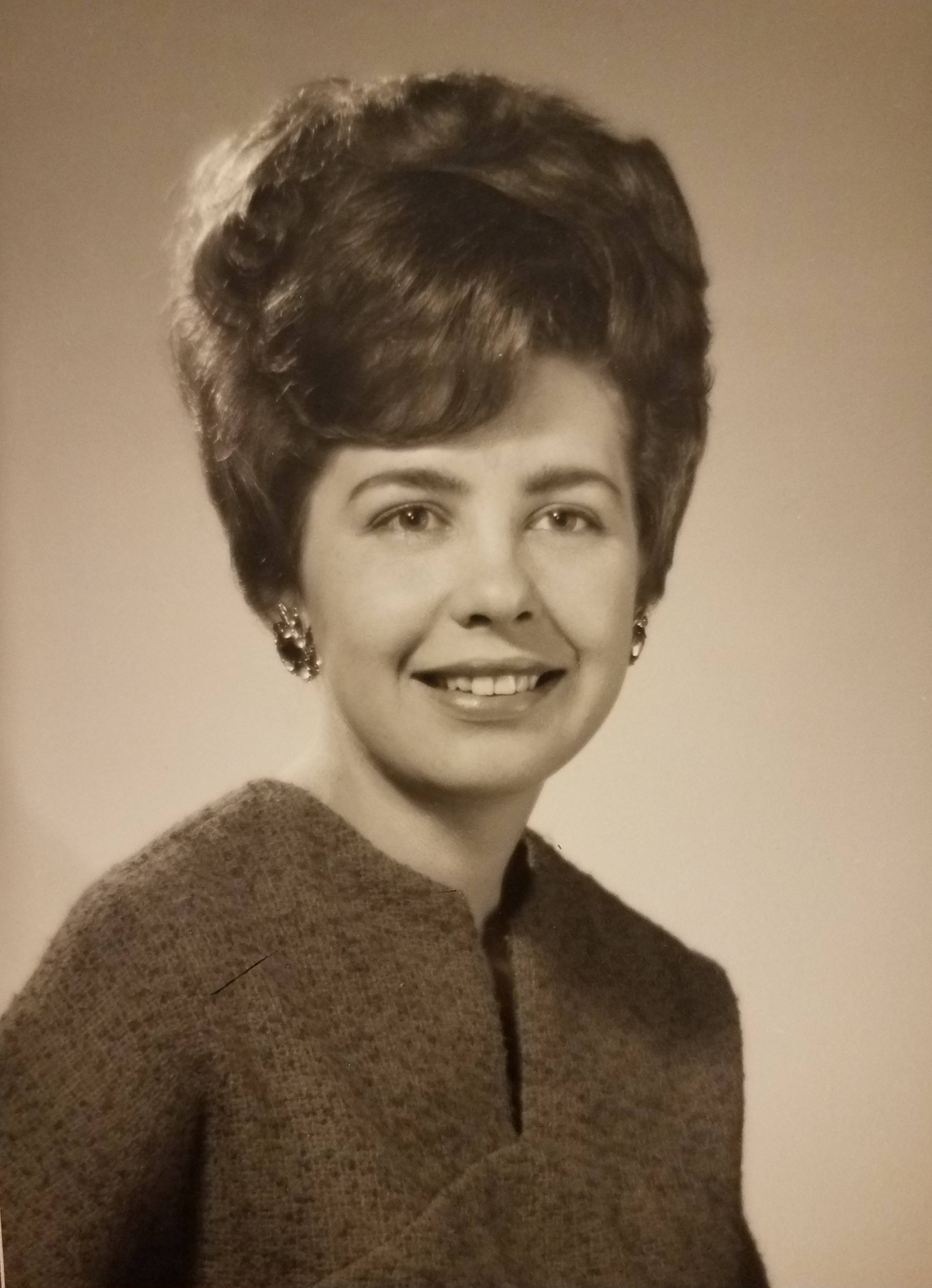 1944-2020
Lynell Shock, age 76, completed her mortal mission here on earth and passed away peacefully after smiling and visiting with family and friends in her youngest son Andy's home.
Lynell was born in Cedar City, Utah on March 13th, 1944, an energetic girl full of life and spirit. She loved to explore and play on the red rocks of Kanab, Utah. After moving from Kanab to Provo on 9th East, she enjoyed spending the summers with her grandparents in Kanab where she rode horseback, milked the cows, cared for the pigs, rabbits, dogs and even the neighbors' cats!
While attending Provo High School, Lynell was the only female to earn the Mobile Gas Economy Contest for knowing how to fine-tune cars. She worked on her '55 Merc. She enjoyed water skiing, swimming, and traveling with her family. She took many secretarial courses offered by UVSC during her high school summers. She could type faster than anyone she knew.
After graduation, she attended Brigham Young University part-time and worked full time at First Security Bank. Because of her amazing ability to fix broken zippers and sew and design costumes Lynell was privileged to be in the first BYU Lamanite Generation tour. With them, she toured Northern and Southern Utah, Arizona, New Mexico, Idaho, and Wyoming. She was incredibly frugal and skilled at making every penny stretch as far as possible. She tended children, mowed lawns, and washed clothes to help support her hobbies like skiing, and dancing. While at BYU she met her eternal sweetheart Duane Paul Shock. They danced and danced and enjoyed a yearlong courtship. They were sealed in the Manti Utah Temple, December 18, 1965.
After their marriage, they lived in their "haunted house" in Provo, UT. LaVelle Edwards was their first bishop! This house would be an adventure— Duane continued his education at BYU for two more years while Lynell worked and supported him in his schooling and together they planted their first garden in 1967. Their first baby boy Rick was born. Dancing together became less frequent as her life drastically changed. Duane's parents were tragically killed in a car accident. Their small family of 3 instantly became a family of 7 when Duane's two younger brothers, Ken, 13 and Keith, 16, and sister Lila came to live with them just before Lila left for her mission. Their second son Corey was born in December giving them two babies in the same year—1967! Lynell did the best she could as a new mother to 5 children.
Soon after her husband graduated and began his career as a teacher, and Lynell began hers as a full time, stay at home mom. Lynell enjoyed motherhood, however. She quit her job at the bank and said it was her, "wisest choice because I would have missed out on being a mom and enjoying the time spent with our wonderful children." Things were still tight financially, so she decided to work midnight shifts at Geneva Steel to make ends meet. Terri Lynn and Tracy were born while there. Lynell served in The Church of Jesus Christ of Latter-day Saints as a Primary teacher and enjoyed her church service very much.
Lynell and Duane were able to buy 3 acres in Lehi, after buying and remodeling a house into a 3-plex. They then built a home there with the help of a drafting teacher and dear friend. Shortly after moving to Lehi, Tyler was born in October 1976.
Andy was born in 1979 and their family was complete. The family enjoyed the outdoors together including many trips to the mountains. Lynell considered, "surviving faith-promoting camping trips with Duane and the family" as one of her favorite hobbies. She always was a good sport. Besides being a mom, she enjoyed, sewing, gardening, Cub Scouts (she had the luxury of being the Den mother to each of her 5 boys) and helping others and the Church with Genealogy/Family History.
Lynell always valued hard work and taught through example. She was the queen of making up fun ways to get monotonous jobs done, sometimes they paid pretty well too (pennies per weed, and dollars per task).
During her life, and retirement, Lynell was privileged to serve 6 missions for the Church. They include the Summer of 1964 mini-mission at the Hill Cumorah Pageant, in New York. In 1978 the Spanish Name Extraction Specialist. In 1982 as a Stake Consultant in the Lehi Family History Center on the PAF program. In 1998 as a Member Location Department Church Service Missionary. In 2005 in the Albuquerque, New Mexico Mission for 18+ months with her sweetheart Duane, and finally as a Phone Family History Missionary in 2010. She also loved serving in the temple and tried to involve all she could in this endeavor, even if her health didn't permit her to go.
Some of her greatest accomplishments were enjoyed and realized through her children. Each of her sons served a full-time mission and her daughter Terri Lynn served a mini-mission for The Church of Jesus Christ of Latter-day Saints. Every one of her children were married in the Temple.
Lynell had a firm testimony of her Savior Jesus Christ and shared it whenever possible in the simplest of ways. She loved being with her grandchildren. Family was important to her, and she enjoyed being able to live near her children, hoping they would drop in and see her as they came and went in their lives. She enjoyed birthdays, parties, and most importantly CHOCOLATE. She was so proud of her family.
She is survived by her siblings, and her children Rick (Mailee), Corey (Dona), Terri Lynn (Scott Bennett), Tracy, Tyler (Kim), Andy (Jessi). Along with many grandchildren and great-grandchildren.
Interment and a private family graveside service were held on Saturday, May 9, 2020, in the Lehi City Cemetery. Funeral Directors: Utah Valley Mortuary.