Obituaries: Verena Elisabeth "Vreni" Locher Kunzler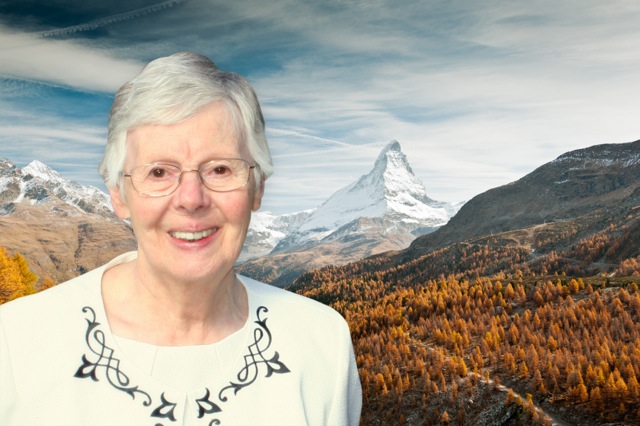 Verena Elisabeth "Vreni" Locher Kunzler quietly departed this life on Tuesday, September 27, 2016 in American Fork, UT, to the care of her Heavenly Father and many departed family members and friends. We are comforted by the knowledge that we will see our wife, mother, and grandmother again.
Verena was born on August 31, 1932 in Freimettigen, Bern, Switzerland to Alfred Locher and Elise Hodel Locher. As a young girl she grew up and was educated in Switzerland. She was a trained stenographer and was fluent in German, Swiss-German, Italian, French, and English. As a dedicated member of the church of Jesus Christ of Latter-day Saints, she served faithfully as a sister missionary in the Swiss-Austrian mission and secretary to the Bern Swiss temple president.
She was united in eternal marriage to Earl Robert Kunzler, sealed in the Logan Utah Temple December 6, 1958. Their union was blessed with six children. When her children grew older, she earned a Child Development Associate Credential and taught preschool at SLCC and Head Start for several years. She was a devoted Sunday School teacher, and served in presidencies of various church auxiliaries. She enjoyed serving as a visiting teacher.
After Earl and Verena's retirement, they returned twice to Switzerland and Austria serving as senior couple proselyting missionaries. As a result of her generous spirit and pleasant personality, she was loved by many. Her devoted life of enduring faith, loving service, and valiant testimony has positively influenced and will forever remain in the lives of all who knew her.
Her life will forever be cherished in the lives of her six children, Julia Lillian (Lance) Hatch of Roy, UT, Helen (Troy) Carlton of Lehi, Earl Robert (Sherri) Kunzler Jr. of Farmington, UT, Barbara Kay (Russell) Tuttle of Albuquerque, NM, Heidi Iris (Greg) Greene of Bountiful, UT, 20 grandchildren, 17 great grandchildren and by her sister Helen (Heini) Roffler and brother Heinz (Lily) Locher of Dubendorf, Switzerland. She was preceded in death by her son, Rayman David Kunzler, and grandson, Steffan Terry Tuttle.
Funeral services were held Friday, September 30, 2016. The family would like to express a special thanks to Canyons Home Care & Hospice, especially Amber Larsen, Elayne Dearcos, Georgia Kiggins, and Toni Deveraux for the wonderful care they provided to our wife, mother, and grandmother over the past few months.