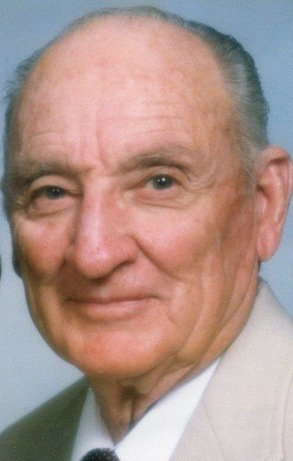 Virgil Kermit Roberts was born on December 13, 1923 to David B. Roberts and Hazel Comer Roberts in Lehi. He passed away in his sleep on Thursday, November 24, 2016. He was within 19 days of his 93rd birthday. He married Edith Vivian Richans of American Fork, Utah on June 5, 1942, a day after they both graduated from high school. Virgil worked at Union Pacific in Salt Lake City for a month then he and Edith ventured to Southern California where he worked on the DC-3 Production line at Douglas Aircraft Company.
As World War II heated up, Virgil with Edith's support, enlisted in the Air Force to train as a pilot. Virgil trained in a variety of locations over the next year, most of the time Edith resided with him in military housing. The bombing of Hiroshima and Nagasaki ended the War just as Virgil was ready to graduate as an Air Force Officer. Virgil was given two choices, graduate and receive his Officer's commission or receive a discharge from the Air Force. The couple chose to travel back to Lehi to their family and friends. In Virgil's words, "We were glad I had been able to serve our country in time of war. Especially for the decisions Ede and I made to return home to raise a family, to serve the Lord and be close to those we loved."
Virgil went into his father's brick mason business. He worked side by side with his father and eventually became the owner of their masonry company after his father retired. In 1964, he and Ede moved to the Mesa, AZ to find a climate that would be better for Edith's health. He started Roberts Builders and evolved from a mason to a builder. In 1979, he turned Roberts Builders over to his son Dennis and son-in-law, Mike Dubois.
He and Ede then started on a second career working for the LDS Temples and Special Projects as construction supervisor. He and Ede supervised the construction of the 1980 Winter Olympics Visitor Center at Lake Placid New York. This assignment was followed by the Bishops Store House in Snowflake, Arizona, the Welfare Center and Grain Silos in Mesa. He was then assigned to the Construction Department for the construction of the Dallas and Chicago LDS temples. The couple then served as missionaries assigned to the Cambodians living in Florida. He and Ede became temple workers in the Mesa Temple and served for 20 years.
Virgil is survived by his wife of 74 years, Edith Vivian Richans, and their six children and spouses: Dennis Roberts (Vicky); Christine Finlinson (Fred); JoAnne Dubois (Michael); Elane Palmer (Rick); William David Roberts (Wendy); and Kelly Dale Roberts (Marci). Their posterity includes 28 grandchildren, 75 great grandchildren and three great great grandchildren.
A brief service will be held at 2 p.m. on December 10, 2016 at Wing Mortuary, 118 East Main, Lehi, with a viewing starting at 1:30 p.m. prior to the service. Interment will be at the Lehi City Cemetery. Special thanks are due to the caregivers at the Legacy Care Center in Mesa, AZ.