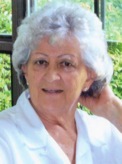 In memory of Beverlee Tripp Peterson a long-time resident of American Fork, Utah, died Saturday April 29, 2017. She married Glen J. Peterson who passed away in May 2007. Born in Hinckley, Utah, April 1, 1929 to parents: Inez Wilkins Tripp and George Washington Tripp of Callao, Utah.
Beverlee was a devout member of the LDS church and held numerous positions in the church over the years. She was sports director in the young women's organization, young women's mutual presidency, first primary presidency at the Utah State Training School, to name a few.
She worked 25 years at the Training School helping those with special needs. She loved the work. Beverlee loved to water ski, snow ski, play softball, painting and gardening. She was a well-rounded individual and touched many lives of all ages and backgrounds.
Beverlee is survived by: son Pierce Peterson (Ruth) of Elko NV. Son: Deeth Peterson of Springcreek, NV. Foster son: Chuck Tortise (Virgee) of White River AZ, and daughter: Letitia (Tish) Smith (Tom) of Island Park, ID. Siblings- Virginia Downs-Lehi, UT, Deon Walker- West Valley City, UT, Boyd Tripp- Wells, NV, Doyle Tripp- Pahrump, NV, and Eudene Parker- Ibapah, UT. Beverlee had many grand and great-grandchildren.
She was preceded in death by husband Glen J. Peterson, son Clyde Elton Peterson (Janet) and her twins she lost at birth, Pedder and Patri, her Tripp siblings; Mark Tripp, Blaine Tripp, Maxine Peterson, Phylis Sampson, Russell Tripp, Carol Tripp, and George Tripp.
Funeral services will be held Thursday May 4, 2017 at Wing Mortuary 118 East Main St. Lehi Utah at 12:00 p.m. A viewing will be held Wednesday May 3, 2017 from 6-8 p.m. at the Mortuary and one hour prior to services. Interment, American Fork City Cemetery.