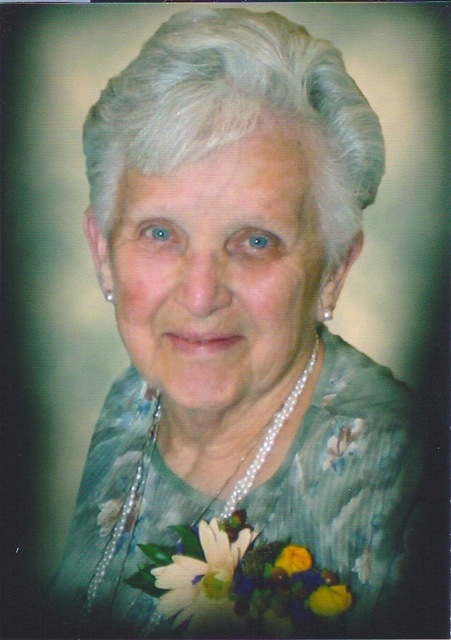 Our beloved mother and grandmother, Irene Grace Wilson Rich Holland, age 95, passed away peacefully of natural causes on March 25, 2017, surrounded by her loving family. She was born on July 11, 1921 on Wilson Lane, Ogden, Weber, Utah to Horace Barlow Wilson and Edith Downey Shipley. Irene was a descendant of the settlers of the Mormon Migration, three of the Wilson brothers settling in what is now known as Wilson Lane, West of Ogden, which is named after them.
One evening she was going with friends, her father had not come home with the car, so she took his big gravel truck. When she came home, her father asked her how she backed it up. She said she parked where she didn't have to back up. Her father said, "Well, let's go out and I'll teach you how." She was only 15 yr. old at that time.
During World War II, Irene was hired to drive a gravel truck at the gravel pit in Brigham City, UT. She was one of their best drivers and enjoyed working there. When the war ended, the men came back and these jobs were given back to them.
Irene married Arlow Rich on May 23, 1938 in Preston, Oneida, Idaho. They had four sons and one daughter. Arlow passed away May 2, 1951, a devastating blow, leaving her to raise four children when she was 29 years old. Following the death of her husband, she worked at the Defense Depot of Ogden in the mess hall, at Falstaff and Kings Club on 25th street in Ogden to support her family.
Irene married Jack Holland on July 13, 1967. They moved to Lehi, where Irene utilized her talent for sewing by working at a sewing company in Lehi, where she sewed cuffs onto coats. She then went to work at the Utah State Hospital. She became a supervisor over two buildings. Irene loved this job and loved the opportunity to provide love and care for all the boys and men at this facility. She retired from the Utah State Hospital April 21, 1981.
Irene loved traveling, crocheting, sewing, and crafting. Irene crocheted or made Christmas ornaments for all her grandchildren every year and always remembered their birthdays. She was honored as one of the Lehi Senior Center Volunteers that served each week at the Senior Center.
Irene was a member of the Church of Jesus Christ of Latter-day-Saints. She enjoyed and loved the missionaries and members of the Lehi 14th Ward. They were truly her friends.
Irene is survived by her sisters, Mary Ann Wilson Ferri and Alverta Wilson Gibson, sons Jay Rich, Sedalia, MO, Harry (Karen) Rich, Roy, UT, Richard (Shelba) Rich, West Haven, UT, 20 grandchildren, 57 great-grandchildren, 34 great-great grandchildren. She was preceded in death by her parents, brother Frank Wilson, sister Evelyn Myrtle Rackham Owens, son Horace Ivan Rich (died at birth), daughter Sheila Joy Sitterud, grandsons, Nathan, Damien, and Michael "Mick" Sitterud, great-granddaughter Brittany Scadlock and great-grandson Jake Fielding.
A special thanks to a loving granddaughter, Debbie Gordon, who stepped up with all the love and support she would have received from her daughter Sheila Joy if she were still alive.
Friends and family are invited to a viewing to be held Friday March 31, 2017 from 5:00 – 7:00 pm at Wing Mortuary, 118 East Main, Lehi. Online guest book at wingmortuary.com.