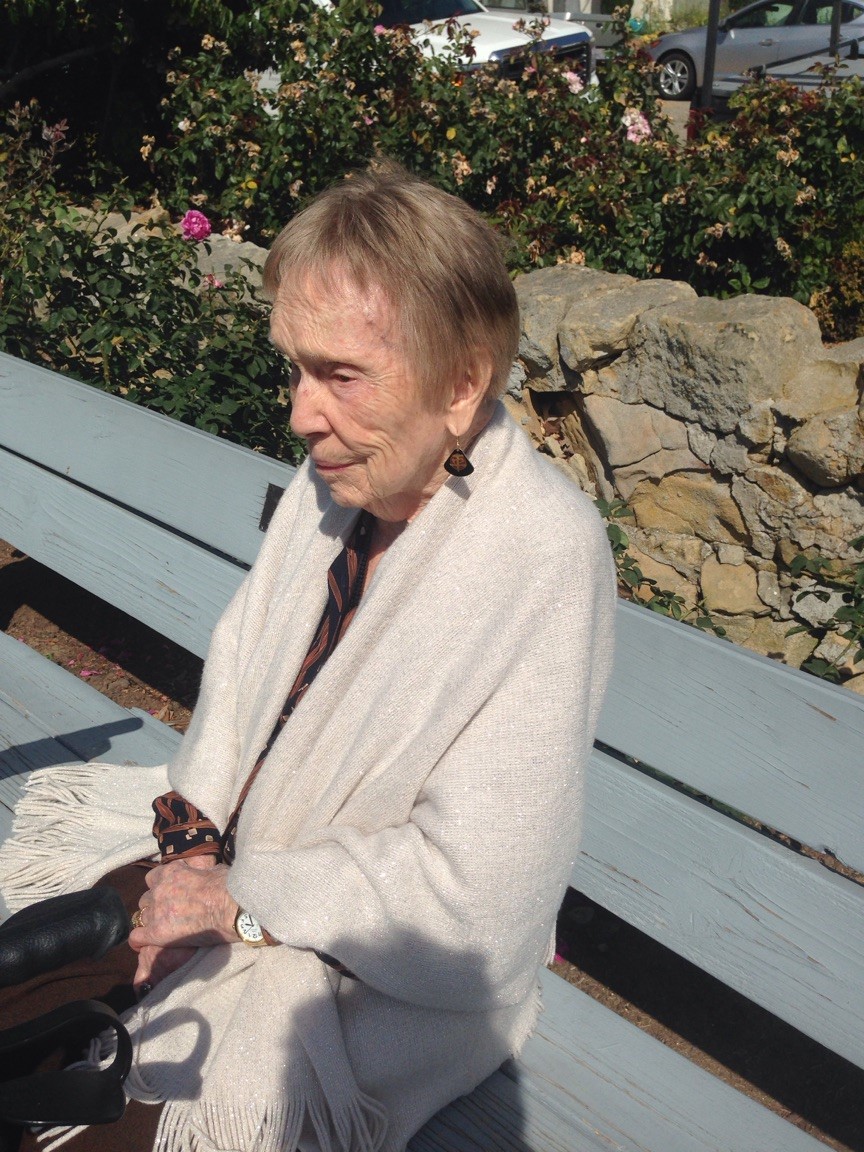 Marcille passed away peacefully March 11, 2107, at the age of 102, following several hours of diminishing consciousness in the presence of family and friends. She was born in Lehi, Utah on May 24, 1914 to parents Carl and Marie Gunther, who immigrated from Europe during the 1890's. She grew up on a small orchard with Sisters Marie, Alice, Eva, and brothers Orville and Lloyd.
Among her earliest childhood memories was being stood up on a table before an audience to sing patriotic songs, promoting the sale of WWI bonds. Marcille always loved reading and excelled as a student. In her one room grammar school, she skipped a grade and finished high school younger than her classmates. After two years of college at BYU Provo, she found secretarial employment in Los Angeles, Boston, and New York City.
At the start of WWII, she was recruited to work for the Red Cross in New Guinea at an Australian Army field hospital where for a time, she was the only non-native woman. There she wrote letters for wounded servicemen and she experienced bombing raids, the arrival of American troops, and illness from Dengue Fever. She was sent to Australia to recover and was reassigned to Mackay as director of entertainment for servicemen receiving R&R (rest & recuperation) from the battlefields. It was in Mackay where she met Bill Cox, an Air Force Sargent she recruited to play saxophone with the nightly dance band, and they were married within ten days after meeting. After the war, they settled in South Gate, CA where they reared three children and operated a photography business.
They were active in the chamber of commerce, Friends of the Library, and local politics. After Bill passed away in 1976, Marcille served on the city council from 1978 until 1980, when she moved to La Jolla to be near her sister, Alice. Her volunteer work there included producing a monthly newsletter for the Veterans Administration Hospital volunteers staff. She moved to Santa Barbara in 1991 and volunteered at the Visitors Center and County Courthouse.
Although she eventually succumbed to age related afflictions, she courageously chose to abstain from strong pain medication to remain mentally alert for her loved ones until her final hours. Survived by daughters Marci (Jack) Friedlander of Santa Barbara, (Billie) Lea Cox of Santa Cruz, son Henry (Ginny) Cox of Benicia, granddaughter Kathy (Eric) Murphy of Port Hueneme, and great grandchildren Jack Linton and Lauren (Elias) Lemus of San Bernardino, and many dear nieces and nephews.
Her family appreciates the kindnesses extended to her by members of Visiting Nurse and Hospice Care of Santa Barbara, Dr. Michael Bordofsky, the Braille Institute, and by her friends and staff at Vista Del Monte Retirement Community of Santa Barbara. Her ashes will be placed in a gravesite adjacent to her beloved husband at Rose Hills, Whittier. No funeral services were held per her request.