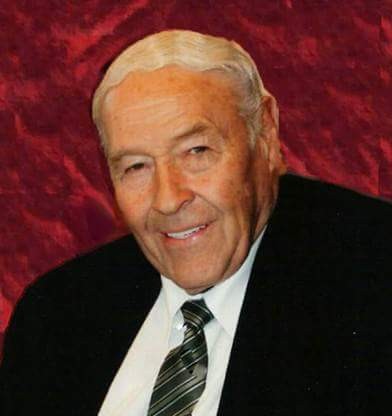 Tony Peck (Anthony Thomas Peck) 81, died Tuesday, June 13, 2017 in his long-time Lehi home due to complications from a recent surgery. He was born on October 8, 1935 to Thomas J. Peck and Fay Beck Peck in the Beck family home, near Bandwagon Park. He was the oldest of seven children. Tony married his high school sweetheart Janice Adamson on May 6, 1955 in the Salt Lake LDS Temple. He has been active in the church and was a member of the Lehi 5th Ward nearly all his life.
Tony graduated from Lehi High School and Seminary in 1953 and was active in sports. He was a member of the Army National Guard for eight years. He was half owner of Thomas J. Peck & Sons, Mining and Trucking. He worked for the family business until he retired at age 74. Some of his greatest attributes were an immense love for people, honesty, loyalty, generosity, and his playful nature. Tony had the foresight to acquire property and see the value long before it was so.  Work, hunting, and gardening were his hobbies as well as spending time with his family. 
Everyone was always welcome in Tony and Janice's home and they had many visitors. He was a tease and created bonds with people by giving them attention sometimes with his "shocker" or his strength. Tony was the strongest man around and many family gatherings ended in water fights or wrestling matches. He was born during the depression and never wasted food. He planted about a half-acre and tried to feed everyone from his garden. He came from a family who believed in "doctoring" with minerals and concoctions. 
He recently celebrated his 62nd wedding anniversary and is survived by his loving wife, Janice.  She has been a nurturing care-taker all his life and his best nurse the last few years, as he struggled with diabetes.
Tony's siblings include Judith (Bob) Whimpey, Dixie (Steve) Houghton, Cindy Yates, R. Tom (Jada) Peck, Nicki (Jerry) Hunter, Ted (Glenda) Peck.  Tony's Children; Lari (Drew) Downs, Vicki Lee, Cole (Cherie) Peck, Clay (Teressa) Peck, Lizbeth (Jeff) Anderson, Megan (Ben) Butler. He has 31 grandchildren and 35 great-grandchildren, with 2 on the way. He also claims Adele Cedarstrom (Drew) Downs, as his own.
He was preceded in death by his parents, his sister, Judith, a sister-in-law, Judy Mae Hall Peck, his oldest daughter, Lari Peck Downs, a daughter-in-law, Rialeen Berry Peck, a grand-daughter, Alexa McKell Peck, and a grandson, Cole Anthony Peck. 
All services will be held at the Lehi South Stake Center, 600 S. 500 W., Lehi. Viewings will be held Sunday evening, June 18th from 6:00-8:00 and Monday, June 19th from 9:30-10:30, prior to the funeral.  The funeral will follow at 11:00 a.m.  Interment: Lehi City Cemetery. Online guest book at wingmortuary.com.