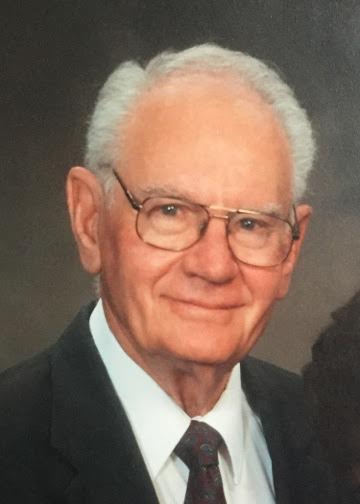 Our beloved husband, father, and grandfather, Alva Ralph Wing, returned to his heavenly home on Thursday, June 15, 2017 at age 91. Ralph was born in the mortuary in Lehi, Utah on July 2nd, 1925. He had four younger sisters, Ila Tomlinson, Joyce Forsythe, Lois Littleford, and Reta Greenwood (Ken).
Ralph grew up in Lehi and graduated from Lehi High school in 1943, having attended mortuary college in Los Angeles his senior year. Shortly after graduation, Ralph was drafted into the army and served as a medic during World War II. After spending 11 months in the hospital, because of tuberculosis, Ralph was honorably discharged in December of 1945. He married his high school sweetheart, Willa Fay Hadfield on June 3, 1946 in the Salt Lake Temple. Ralph took over the family funeral business and he and Willa raised their 4 children, Lenard Alva (Julia Holmes), Ronald Ralph, Kathryn (Robin Klein), and Charlotte Joanne (Robert Jensen).
Ralph served as a counselor and Bishop in the Lehi 5th Ward, counselor in the Lehi Stake Presidency, Branch President at the Missionary Training Center, and Lehi City Councilman. He also served as National President of the Funeral Directors Examining Board. He was on the Sentinel Security Life Insurance Board of Directors. He and Willa served as missionaries in the England, London mission and served as temple workers in both the Provo and Mt. Timpanogos Temples.
Ralph loved to fish, travel, spend time at their cabin in Provo Canyon, and enjoy his grandchildren (16) and great grandchildren (35).
Ralph is survived by his wife, sisters, daughters, many grandchildren and great grandchildren. He is now reunited with his parents, sons, his grandson (Kelly), his great granddaughter (Lily), and many wonderful friends.
Funeral services will be held at noon on Thursday, June 22, 2017, in the LDS Chapel, 465 E. 300 N., Lehi. The viewing will be held Wednesday evening from 6-8 p.m. at Wing Mortuary, 118 E. Main Street in Lehi and another viewing one-hour prior to the service on Thursday at the church. Interment will be in the Lehi City Cemetery. Funeral arrangements: Wing Mortuary