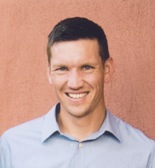 Our beloved, Zachary K Zimmerman, 39, died Saturday, June 17, 2017. Zac fell after he and his friend summited Bighorn Peak from the Alpine side, as they began traversing toward Lone Peak.
Zac was born November 14, 1977 to Kyle and LaNae Zimmerman of Lehi, making him a 5th generation Lehi native. In his younger years he enjoyed camping, hiking, hunting, boating and anything in the outdoors with his parents, sisters and many friends. He achieved his Eagle Scout in 1995 and graduated from Lehi High School in 1996. He served an LDS mission in Monterrey, Mexico from 1998-2000.
After marrying Traci Sue Radandt, becoming eternal companions by being sealed in the Salt Lake City Temple on September 21, 2004, they had the blessing of bringing three beautiful children into their lives. Zac continued to show them his love of the outdoors by taking them on many wonderful adventures.
For many years Zac thoroughly enjoyed road running, trail running, and even created his own mountain peak routes. Zac and Traci have countless memories of these runs together. Zac is a highly skilled and accomplished extreme-adventure trail runner.
Zac is survived by his wife Traci, their children Adaline (11), Dallin (9), Henry (6); his father and mother, Kyle R and LaNae (Hunting) Zimmerman; his younger sisters, Jessica (Rusty) Terry, Jennell (Brody) McGee, Madalyn (Colt) Nuccitelli, Whitney (Brandon) Meyer; his grandmother, Lela Hacking Hunting; and many nieces, nephews, in-laws, and countless others.
Zac is preceded in death by his grandparents S. Rex and Ardell (Dean) Zimmerman and Max R Hunting.
All services will be held at the Lehi East Stake Center, 851 N 1200 E Lehi. The viewing will be held Friday evening, June 23rd, 6-8 p.m., and Saturday, June 24th, 9:30-10:30 a.m., prior to the funeral. The funeral will follow at 11 a.m.
Zac's family would like to thank Matt Clark, the Life Flight team, rescue crews, and the two Good Samaritan hikers (Tyler and Matt) who assisted Life Flight in his recovery.