Relva Elmina Larsen Laney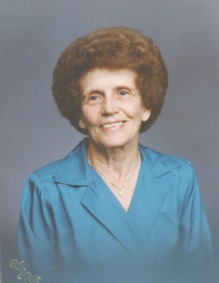 Relva Elmina Larsen Laney, 94, passed away peacefully on June 18, 2017. Relva was born in a humble log house on a Lehi farm on February 23, 1923. She started elementary at the old Lehi Sego Lily Schoolhouse in 1928. She enjoyed a happy childhood. In grammar school and high school, she played the trombone for the band and was part of the Lehi Pep Club. She marched at half time of the football and basketball games, and was also a star on the track team. Relva graduated from Lehi High School in 1940.
She worked as a phone operator in Lehi and a secretary for Geneva Steel. She married Jack Wagstaff in 1944. Jack died on May 1, 1945 in World War II in Germany, leaving Relva a widow with a daughter Verlene. She later met George Cleon Laney (Clin) while working at Laney Mercantile in Lehi. George surprised her by asking her out, and Relva, enamored with his kindness and brown wavy hair, accepted. The two later married on January 9, 1947. They raised their family in Lehi and ran a successful business on Lehi Main Street for 43 years.
Relva devoted her life to her family and church service. She was a wonderful homemaker and was famous for her bottled peaches, raspberry jam, and banana bread. She loved her family more than anything, and it showed in the way she prioritized her life. She was proud of her family's many accomplishments, and the way they lived their lives. She led an exemplary life of kindness, selflessness, righteousness, honesty, and integrity. Her family relied upon her prayers and strong testimony. Always positive, uplifting, and thoughtful, she brought happiness to everyone that touched her life. She will be remembered for her devoted example, encouraging words, stories, and hugs and kisses.
Relva is survived by her four children: Kathleen Ross (Ron Ross), Carolyn Cooper (Gary Cooper), G. Steven Laney (Linda Laney), and Gary Laney (Carla Laney). She is also survived by 24 grandchildren, 67 great-grand children, and two great-great grandchildren. She was preceded in death by her husband of 62 years, George Cleon Laney, parents, Linel John and Elmina Larsen, daughter Verlene Wagstaff, sister Bonnie Miner, brother Keith Larsen, and great-granddaughters Corrin and Gweneth Nelson.
A viewing will be held Sunday June 25, 6-8 p.m.at Wing Mortuary,118 East Main Street in Lehi. The funeral will be held Monday June 26, 11 a.m. at the Lehi 5th Ward, 481 East, 300 North, Lehi. There will also be an additional viewing one hour before the funeral at the church. Interment: Lehi City Cemetery. Online guest book at wingmortuary.com.