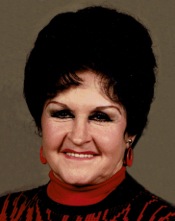 Beverly McIff. Crabb passed from this life on Wednesday, June 21, 2017 after a brief illness. Beverly was born in Panguitch, Utah in Garfield County on November 9, 1923. She was the sixth child of Lillie Agnes Hatch and Otto Ernest McIff. She had 3 sisters and 3 brothers–Eldon Otto, Rex Hatch, Elaine, Lyle H., Mildred, and Florence. Beverly was born at her parents' home just behind the theater that her mother and father operated.
Her family moved from Panguitch to Gunnison, Utah, in Sevier County where the family lived for many years in several different houses. Beverly finished high school in Panguitch, as she valued a good education. Having gone through lean times with the family, Beverly learned the meaning of hard work which she passed on to her own children.
Beverly married Dale Nevin Crabb in Provo, Utah on March 9, 1946. Their marriage was solemnized on January 24, 1964 in the Salt Lake Temple of The Church of Jesus Christ of Latter-day Saints. She and Dale raised 4 children – Dianna C. Webb (Lehi), Ronald Dale Crabb (American Fork), Richard M. Crabb (Bullhead City, AZ), and Russell David Crabb (Fruit Heights).
She worked as an assistant manager and sales clerk for Christensen's Department Store in American Fork for many years. After retiring from the store, she went on to serve the members of the American Fork Training School branch of the Church of Jesus Christ of Latter-day Saints. She stayed active in church activities and continued to work in her yard until her health began to fade in her late 80's.
Beverly was preceded in death by her husband, her parents, her siblings, and one great-grandchild. She is survived by her children, 15 grandchildren, and 18 great-grandchildren.
A graveside service was held on Monday, June 26, 2017. Online guest book at wingmortuary.com.