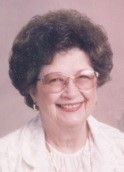 Darlene Wathen Gray of Lehi, Utah passed away peacefully at her home Sept. 17, 2017. She was born July 7, 1926 in Bluebell, Utah.
Darlene graduated from Lehi High. She married her sweetheart Jack Gray in the Salt Lake Temple on April 10, 1946. They raised eight children with love and security.
Darlene was preceded in death by her husband, parents, a brother, two grandchildren and one great grandchild. She is survived by her eight children; Johnny (Mary), Gordon, Carol (John) Allred, Russell (Judy), Bert (Rebecca), William (Jennifer), Kathleen (Chris) Chaney, Karen (Lance) Patterson, 36 grandchildren, 73 great grandchildren, and 2 brothers.
Darlene and her family give thanks to wonderful caregivers from 1st Choice Home Health and Hospice.
Funeral services will be held Thursday, September 21, 2017 in the Lehi 2nd Ward LDS Chapel, 481 East 300 North at 11:00 a.m. Viewings will be Wednesday, Sept. 20, 2017 from 6-8 p.m.at Wing Mortuary, 118 East Main and from 9:30-10:30 a.m. prior to the service at the church. Interment, Lehi City Cemetery. Online guest book at wingmortuary.com