Evelyn Peterson Woffinden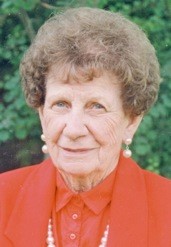 Evelyn Peterson Woffinden passed away peacefully September 15, 2017 in the home she was born in. Evelyn was born May 23, 1915 to David and Margery Smith Peterson. She had two older sisters, Margery and Lorena and older brothers, Alma, and Smith.
She married Duane M. Woffinden December 19, 1935 in the Salt Lake Temple. They were the parents of five children, Carma, Neil, Lee, Elaine, and Larry. Evelyn was a loving mother, grandmother, great grandmother, and great great-grandmother. She had a special relationship with her granddaughters. She was a great cook and dinner at Grandmother's home was always a treat.
Evelyn was an active member of The Church of Jesus Christ of Latter-day Saints, serving in many capacities. She completed a full-time mission in the Colorado, Denver South Mission following the death of her husband. Evelyn loved to garden and sing. She sang in a trio with her close friends, Vera Trane and Zada Phillips at many funerals and other events. She was a member and officer of the Daughters of the Utah Pioneers.
Evelyn was lovingly cared for by her daughters, granddaughters, and great granddaughters over the last several years. Recently the staff of Alpha Hospice provided excellent support.
Funeral services will be held Saturday, September 23, 2017 at 11:00 a.m. in the Lehi 5th Ward Chapel, 481 East 300 North. A viewing beginning at 9:30 a.m. will precede the services. Interment, Lehi City Cemetery. Online guest book at wingmortuary.com.