Josephine Royle Chatfield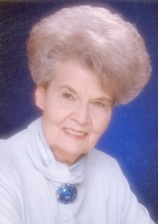 Josephine Royle Chatfield
1921-2018
Since losing her eternal companion, Robert Felt Chatfield, in 1975 after 34 years of marriage, Josephine Royle Chatfield continued to preside as matriarch over her earthly family for another 42 years, until her recent passing on February 22, 2018 from causes incident to age.
Never one to leave her candle under a bushel, she remained a shining example to her posterity and friends through her years of service including: an ordinance worker in the Provo and Mt. Timpanogos Temples, a Temple Square missionary, and as a full time proselyting missionary in the California San Bernardino Mission.
She was born to James Freeman and Lovinia McAllister Royle on April 10, 1921 in Lehi, Utah.
She was preceded in death by almost everyone . . . except her children: Lynda (Paul) Gunther, LaNae (Scott) Tennis, Robert (Katherine) Chatfield, Marsha (David) Waterman, and Miriam (Nick) Webb, 27 grandchildren and 80 great-grandchildren.
Many thanks to Brighton Hospice: especially Annika, Tiffany, and Gustavo for their loving, personalized care.
Funeral services will be held on Thursday, March 1, 2018 at 11 a.m. at the Cedar Hollow East Ward located at 9681 N 6900 W Highland, Utah. Friends and family may call Wednesday evening from 6-8 p.m. at Wing Mortuary, 118 E Main in Lehi and one hour prior to services Thursday morning at the church. Interment will be in the Lehi City Cemetery. Online guest book at wingmortuary.com