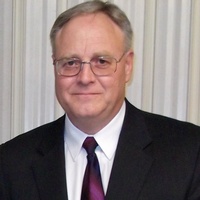 Kevin Ray Russon, 61, passed away from cancer on October 23, 2018. He was born in 1956 to Dee Ray and JaLaine Singleton Russon and raised in Lehi, Utah.
Kevin graduated from Lehi High School and UVU. He served in the California Anaheim Mission, an experience that shaped his life. He married Sheree Jensen in 1978 in the Provo LDS Temple.
Kevin was employed with Flowserve (Valtek), Neways, and the State of Utah. He served many years in scouting, as a Bishop, in a Stake Presidency, and Provo MTC branch presidencies. He loved serving his Savior.
Kevin is survived by his wife, Sheree, their children Hayley (David) Davis-Bartlett, Jamee (Jimmy) Fuller, Bryce (Stephanie) Russon, and Brady (Katie) Russon, his parents, Dee and JaLaine Russon, siblings Lori Berrett, Randy Russon, Lisa Flinders, Michael, and Gregory Russon, and 15 grandchildren. He was preceded in death by a son-in-law, Clayton Davis, and granddaughter Kamie Bartlett.
Funeral services were held Saturday, October 27 in the Lehi South Stake Center. Interment in the Lehi Cemetery. Online guest book at wingmortuary.com.