Claudia Lorraine Starich Cox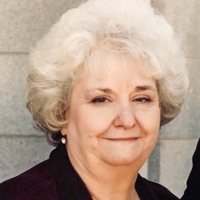 Claudia Lorraine Starich Cox, our dear sweet mother, grandmother, and wife, 74, of Lehi, Utah completed her valiant journey on earth and has returned to her loving Heavenly Father on October 31, 2018. She was born November 17, 1943 in Price, Utah to Dante and Louise Starich.
Claudia married James A Cox on September 6, 1963 in the Manti Temple. They were blessed with five children and shared 55 wonderful years together.
Claudia was an active member of The Church of Jesus Christ of Latter-day Saints. She held and enjoyed many callings at which she served to the best of her ability. She served in the primary presidency loving the children, spent time in the young women's and also was an activity day leader. She also served in any other callings building up the Sunset 1st Ward. A highlight of her life was serving for the last three years as an indexing missionary. She met and served many wonderful people all over the world.
Claudia had such a love and talent for crocheting and knitting and has spent several hours make items for the temples. She also loved to bake many wonderful things which she shared with friends and neighbors. Claudia had a real love for bread; it was her comfort. She was a very kind, generous, loving person and always wanted the best for others. There are many that have expressed their appreciation to her for making them a better person.
Claudia was very strong through all of her health issues in her life as she had many. She never complained and fought through all her challenges. She brought such joy and happiness to all those who knew her. We will miss her special spirit and the love she shared with all of us.
She is survived by her husband James A Cox, children; Erick (Karen) Cox of Cedar City, Tricia (Joe) Brinkerhoff of Salem, Chris (Wylene) Cox of Gilbert, AZ, Matthew (Shantelle) Cox of Lehi, Danelle Butterfield of Lehi, 18 beautiful grandchildren, and 17 great grandchildren whom she loved dearly. She was preceded in death by her parents Dante and Louise Starich, sister Shirley Fausett, brother-in-law Bud Fausett, sister-in-law Vicki Durrant, mother and father-in-law Allen and Dessia Cox.
Funeral services will be held Friday, November 9, 2018 at 11 a.m. in the Sunset 1st Ward, 2100 North Sunset Drive, Lehi, Utah. Family and friends may call Thursday evening at the church from 6-8 p.m. and one hour prior to the service Friday morning. Interment, Lehi City Cemetery.