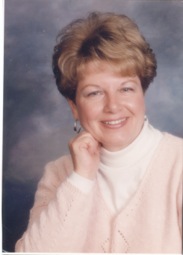 Midgie Audrene Peterson Street returned home to her Father in Heaven on November 20, 2018. She was surrounded by family at her home in Lehi when she passed away. The family is grateful she is at peace and no longer in pain. Midge was born on February 12, 1940, the oldest of six children born to Morris and Erma Peterson in Roosevelt, Utah. She graduated from Springville High in 1958 where she was a cheerleader and helped cheer the men's basketball team to their first state championship in 1958.
She met Reed Street, her sweetheart of 55 years, on a blind date. They married shortly after on May 4, 1963. They lived in the same home in Lehi ever since. Together they had three children, Jeffrey (Kim) of Lehi, Sherri (Allen) of Saratoga Springs, and Todd (Shelley) of Centerville, Utah. Midge was a talented seamstress and worked for Pykettes Clothing company until they closed. She then became a hair stylist, with a salon in her home for 25 years. She cut, colored, and styled all the family in addition to her many loyal clients.
Everyone loved her attention as she would visit and tell stories while she carefully worked to style the perfect look. We will miss her sweet laugh and way of making everyone around her feel special and loved. Midge took great pride in her home and yard. She was especially known as a wonderful cook with the best homemade rolls and desserts. She cooked everything from scratch and could turn the simplest foods into delicious meals. She was constantly attending to everyone's needs as she was devoted to her family and was happiest spending time with them.
Her greatest regret was that she wouldn't be able to watch her great-grandbabies grow up. In addition to her husband and three children, she is survived by 11 grandchildren, 9 great-grandchildren, as well as her brothers Donny, Jimmy, and Joe, and her two best friends/sisters Linda (Ken-deceased) and Gloria (Robert).
She is preceded in death by her mother and brother-in-law. Funeral services were held on Monday, November 26, 2018 at the Church of Jesus Christ of Latter-day Saints chapel on 880 North 700 East, Lehi, Utah. Interment, Lehi City Cemetery. Online guest book at wingmortuary.com.