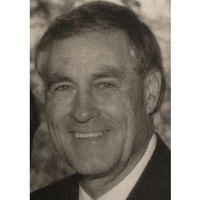 1931-2019
Heaven just got a lot brighter as one of God's most valiant sons stepped through the veil to be with family and friends who have gone before. Hal Evans Holmstead, age 87, passed away peacefully at the Highland Glen Senior Living Center surrounded by family on Thursday, February 21.
He was a sweetheart, father, grandfather, and friend extra-ordinaire. Hal was born August 16, 1931 in Lehi. He was the oldest child of Rex Darling Holmstead and Laura Gene Evans Holmstead. He was a driven young man who always tried to do his best at whatever he did, whether high school sports or the school play. He married Kathryn Smith on July 10, 1949 and would be celebrating their 70th anniversary on July 10th of this year. They were sealed in the Manti, Utah Temple. Together they raised five children: Gordon (Claudia Hall) Holmstead, Jan (Randy) Robinson, Lori (Doug) Berry, Kurt (Karen) Holmstead, and Jay (Sondra) Holmstead in a home Hal built in American Fork, Utah.
Hal started working at Geneva as a young man with his father and worked there until he started an insurance business. He was a very hard worker and had a natural knack for people and sales. Hal built a legendary reputation of honesty and trust and people liked doing business with such a gentleman. His richest legacy is his large family. Hal served his family and provided many memorable opportunities like ski adventures, Lake Powell trips, and a Mediterranean cruise to name a few.
He is survived by his five children, 34 grandchildren and 76 great grandchildren, as well as his sister Jayne (Jerry) Nelson. He was preceded in death by his parents Rex and Gene Holmstead, brothers Kay and Craig Holmstead, and one great granddaughter Harper Shuey. Family was everything to him!
He was a talented builder and loved to work with his hands. He loved people, good food, and life itself. He loved to golf and snow/water ski, especially with his grandchildren. He enjoyed serving in the Mount Timpanogos temple with his sweetheart, Kate. He also loved to read.
Hal experienced many miracles and tender mercies in his life. He was a faithful and devoted member of the Church of Jesus Christ of Latter-day Saints and served tirelessly in many callings in the church. His legacy of love, loyalty, devotion, and hard work will live on through his posterity. The family wishes to express gratitude to the Symbii Hospice staff and the staff at the Highland Glen Senior Care Center for the tender care they gave him in his final days.
An evening viewing was held Tuesday, February 26 from 6- 8 p.m. at the Church of Jesus Christ of Latter-day Saints American Fork 14th Ward, 1100 East 400 North. Funeral services were held on Wednesday, February 27, 2019 at the same location with a viewing prior to the funeral. Interment, Lehi City Cemetery.