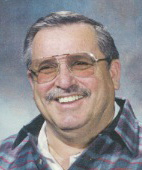 1935-2019
Darold Deloy Clark, 83, passed away peacefully March 1, 2019 at his home in Lehi, Utah. He was born April 7, 1935 in Idaho Falls, Idaho to William Martin and Hazel Jane Lovell Clark. He was one of eleven brothers and sisters.
Darold grew up in Salt Lake City, UT and at a young age taught himself how to be a butcher. He was the meat manager at Reams in American Fork for many years, and later owned and operated his own business, Darold's Meats, in Lindon, UT. He was also a bus driver for Alpine School District for 20 years.
He was married to Loretta Madsen; they had two children, Cindy and Mike. They later divorced. He then married Bonnie Smith from Lehi, UT on November 27, 1974. They were later sealed in the Salt Lake Temple. They had one child together, Dustin Clark.
He was an active member of The Church of Jesus Christ of Latter-day Saints and enjoyed his many callings. Darold loved to cook and did many Dutch oven cookouts for the ward.
He is survived by his wife, Bonnie, son Mike Clark, daughter Cindy Hanks, brothers Stan, Don, and Jack Clark, four grandchildren and 20 great-grandchildren.
He was preceded in death by his parents, his son, Dustin Clark, three sisters and four brothers.
Funeral services will be held Friday March 8, 2019 at 11 a.m. at the Lehi Westfield 1st ward building 300 N 1100 W Lehi, UT. A viewing will be held Friday from 9:00 -10:30 a.m. at the church. Interment will be in the Lehi City Cemetery.