Lehi Free Press announces City Council Candidate Debate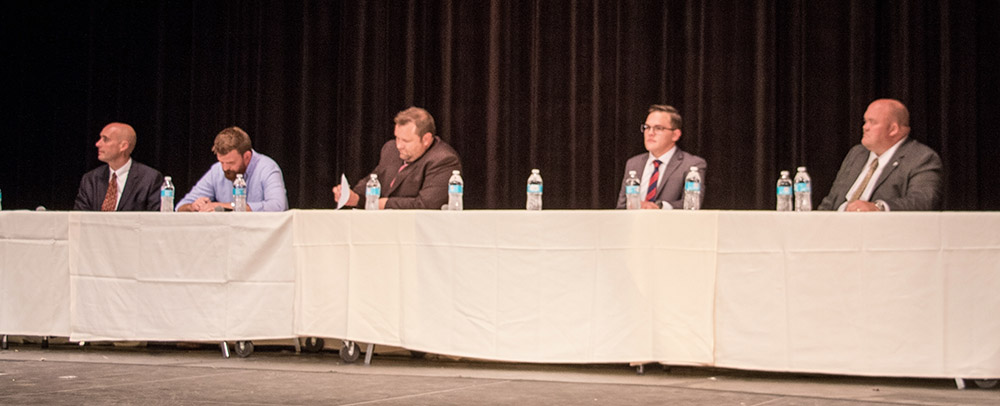 Event at Willowcreek Middle School Thursday, August 1 at 7 p.m.
The Lehi Free Press and the Point of the Mountain Chamber of Commerce will host a Lehi City Council candidate debate at Willowcreek Middle School in the orchestra room on Thursday, August 1 at 7 p.m. The public is invited and encouraged to attend.
There are 14 candidates running for three City Council seats. All three current City Council members whose seats are up for re-election are asking Lehi voters to re-elect them. The primary election will be held on Tuesday, August 13. Voters in Utah County will be mailed ballots starting the week of July 22. Voters may choose to mail their completed ballots prior to August 13 or vote at Lehi City Hall up until 8 p.m. on election day.
The primary election will narrow the field of 14 to six candidates who will compete for the three City Council seats in the general election, which will be held on November 5, 2019.
Lehi City is hosting a Meet the Candidates Night on Tuesday, August 6 from 6-7:30 p.m. at the Legacy Center.
The candidates are:
Paige Albrecht (incumbent)
Cody Black
Ammon Crossette
Montane Hamilton
Tahnee Hamilton
Matthew Wynn Hemmert
Henry Rudolph Kneitz III
Katie Koivisto
Michelle Miles
Jason Oviatt
Johnny Revill (incumbent)
Mike V. Southwick (incumbent)
Steven Werner
Jonathan Willis
Some of the candidates may not be able to attend the debate, but all will be asked several questions prior to the debate and will be offered an opportunity to respond. Those who attend the debate will be asked impromptu questions as well. Those candidates who are not able to attend the debate will have their responses to provided questions read aloud by the moderator of the debate.
Willowcreek Middle School is located at 2275 W. 300 N. in Lehi.