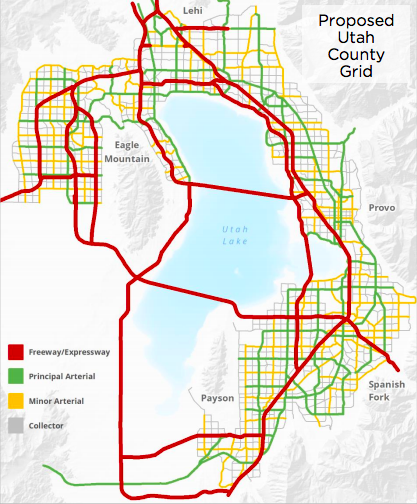 Skyler Beltran | Lehi Free Press
In the Pre-Council meeting, the Council heard a presentation from Chad Eccles, representing the Mountainland Association of Governments (MAG) regarding the newly approved TransPlan50. The TransPlan50 is MAG's 30-year transportation plan, which is updated and adopted every four years to highlight needs and future projects. The plan includes projected population growth, employment outlook, and regional transportation needs. The plan has five overall goals:
1. Update the current regional road system to a metropolitan grid-based network.
2. Explore additional freeways and add capacity.
3. Create a robust transit system.
4. Build a regionally connected active transportation system.
5. Preserve what we have.
"Even with all of the improvements we're having now at the point of the mountain, by 2050 it just won't be enough," said Eccles. Projections for west Utah County (Lehi, Saratoga Springs and Eagle Mountain) show a population increase from today's 127,000 to 430,000 in 2050, a 239% increase. "What's amazing to me is two thirds of the growth is [from] our own children, it isn't necessarily people moving in," said Councilmember Johnny Revill.
The study showed current drive time from Eagle Mountain to Provo is 39 minutes, while Lehi to Salt Lake City is currently at 41 minutes. If no improvements to the current network were made, by 2050, those drive time increases would total, Eagle Mountain to Provo in 1 hour 16 minutes, and Lehi to Salt Lake City in 1 hour 4 minutes. The recently adopted TransPlan50 to alleviate these potential increases is a $24 billion plan funded through fuel tax, car registrations and auto sales tax.
The plan looks to connect neighborhood grid streets, enhance and add freeways, and possibly even a highway over Utah Lake. "People have joked about it for a while and now it's in the plan as a funded phase 3 plan," said Eccles regarding the Utah Lake project. At the completion of the proposed plan, drive time from Eagle Mountain to Provo would decrease by 1 minute to 38 minutes total, while Lehi to Salt Lake City would only see a five-minute increase, to 46 minutes total.
Lehi Fiscal Year-End
Financial Update
Lehi City Finance Director, Dean Lundell, presented a 2018-2019 fiscal year end update. Lehi City's fiscal year is July 1 to June 30 each year. Lundell's report showed tax revenue increases in every category. Sales tax for the year was up 7.64%, coming in at $13.15 million. "Some of it from retail growth but also our population growth" said Lundell. Sales tax is reassessed by the state of Utah each April and then dispersed to Cities based on their population totals. Lehi has seen an obvious increase in population. Property tax revenue also saw an increase of nearly 7%. Lundell also noted that Lehi property values saw a 19% overall increase.
Lehi falls in the middle of the pack compared to other Utah County municipal property tax rates. The City also saw a 12% year over year increase in Class C Road Funds (gas tax), which is also collected by the state and then redistributed to cities. The revenue increases consequently led to a healthy general fund reserve balance of almost $13 million. "We had a pretty good surplus in the general fund this year and remember we transferred a large portion of that into capital projects for future things" said Lundell.
Lundell also clarified that there were deficits reported for some utilities like sewer, pressurized irrigation, and storm drains because they include depreciation unlike the other areas. Lundell assured the Council that all utility categories are in good financial standing but the potential for a sewer rate increase in the future is possible. Councilmember Paige Albrecht expressed satisfaction to the yearend numbers by saying " [This is] a lot of good news." Lundell concluded the presentation by saying "Lehi's financials look good."
Power Department
presented award from Navajo Nation President
Lehi City Power Director, Joel Eves, presented an award to Lehi City from the Navajo Nation President. Lehi City, partnered with the American Public Power Association (APPA) recently participated in a program called, Light Up Navajo. According to the APPA, The Navajo Nation is the largest Native American territory in the United States, with an estimated population of 55,000 homes. About 15,000 do not have electricity, making up 75% of all the households without power in the United States. The Lehi City Power Department team, led by foreman Chad Taylor, included Rory Hisky, Kevin Stevenson, Austin Lewis and Aaron Binks. "It's a very unique experience to give someone power for the first time" said Eves. The Lehi City team was able to successfully bring power to nine homes on the Navajo Nation Reservation.
Other agenda items included:
A closed Executive Session regarding personnel and real estate.
Water District Presentation by John Peterson
Discussion of additional funds for Capital Projects by Dean Lundell, Finance; and Lorin Powell, Engineering
Consideration of Resolution #2019-61, requesting the recertification of the Lehi City Justice Court. Petitioner: Lehi City. Unanimously approved.
Budget Amendment a. Public Hearing b. Consideration of Resolution #2019-60, amending the budget for the City of Lehi for Fiscal Year 2020. Petitioner: Lehi City. Unanimously approved.
Consideration of Final Subdivision approval for Taylor Cove, an 11-lot residential development located at approximately 825 West 1250 South in an approved R-1-15 zone. Petitioner: Dan Ford. Unanimously approved.
Consideration of Resolution #2019-58, an Intent to Annex the Forrest Annexation, approximately 4.90-acres of property located at approximately 1900 South Bridle Path Loop with a proposed R-1-22 zoning Petitioner: Mitch McCuistion. Unanimously approved.
Consideration of the North Slopes Plat A Amendment to the Cabela's Subdivision Lot 2, a 3.15-acre commercial subdivision located at 4100 North Cabela's Blvd in a Planned Community zone. Petitioner: Trevor Evans. Unanimously approved.
Consideration of Resolution #2019-59, an agreement between Lehi City and UDOT for the UDOT outfall channel and Triumph Boulevard storm drains. Petitioner: Lehi City. Unanimously approved.