Falcon swimmer sets records, earns honors at state meet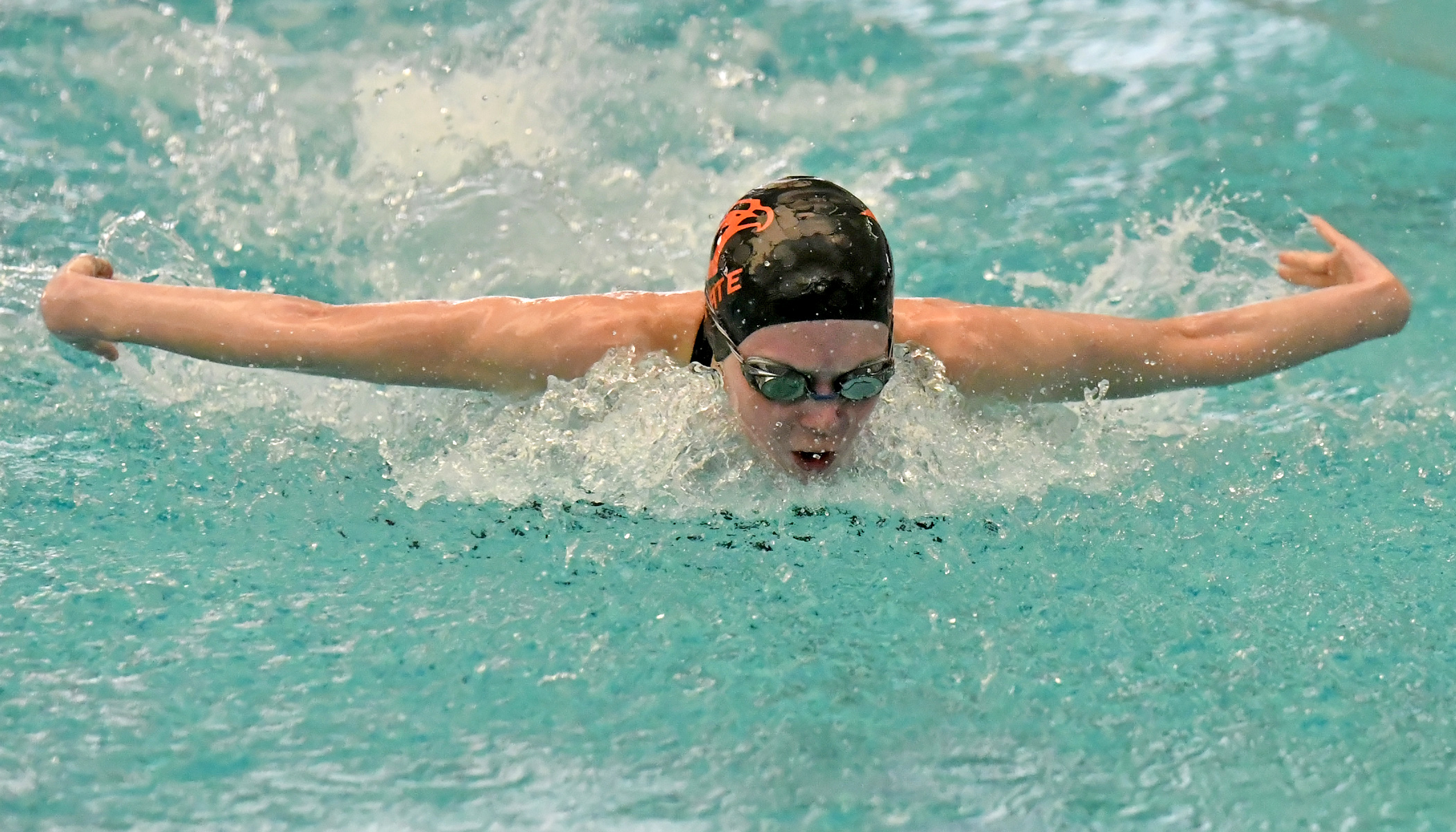 The Skyridge swim team came in eighth in the girls team totals and 17th in the boys team rankings at the 6A state meet, held at the Kearns Oquirrh Park Swim Facility on Feb. 19-20.
Leading the way for the Falcons was junior Katie Andrist, who won two gold medals and was honored as the 6A Swimmer of the Year.
She set new 6A state records in the events where she finished first. In the 200-yard freestyle, she earned a mark of 1:56.27 in the preliminaries and 1:56.29 in the final, both of them eclipsing the previous record of 1:57.09 set two years ago by American Fork's Allie Hill.
Andrist outdistanced all of her competition in the preliminaries of the 500-yard freestyle, prep swimming's one endurance race. Her mark of 5:04.47 was nearly 14 seconds faster than the next finisher, who happened to be Hill. She set the previous 6A record of 5:09.33 last year.
Andrist didn't quite reach her earlier time in the finals, but her 2:08.23 was still better than the old record and good enough for the gold medal by nearly five seconds.
Freshman Dani Cannon was also a double medalist, earning silver in the 100-yard butterfly and dropping time from her preliminary mark to finish fourth in the 100-yard backstroke.
Teammate Cierrah Scholes, a senior, came in 15th in the latter event. Sophomore Anya Clark got a fifth-place medal in the 100-yard breaststroke.
For the boys, Tylan Spencer finished 10th in the 100-yard backstroke. Freshman Wade Ogden dropped nearly three seconds from his mark in the preliminaries to take 11th place in the 200-yard individual medley. He also finished 15th in the 100-yard breaststroke.
Freshman Nate Moir cut more than 4.5 seconds off his mark in the preliminaries to finish ninth in the 500-yard freestyle. The improvement was more than 2.5 seconds in the 200-yard freestyle race, moving him up to 15th place.
Senior Connor Seppi came in 13th in the 100-yard backstroke, and fellow Falcon Spencer Stowers, a sophomore, followed him in 14th position. Senior Andrew Davidson also bettered his time from the preliminaries while earning 16th place in the 100-yard freestyle.
Lone Peak earned the girls team title with 319 points, barely surpassing American Fork at 315. Corner Canyon was a distant third at 179. The Skyridge girls tallied 99 points.
American Fork won the boys team title with 216 points, followed by Westlake at 203 and Corner Canyon at 181. The Falcon boys earned 45 points.