Millward wins state title, two other wrestlers place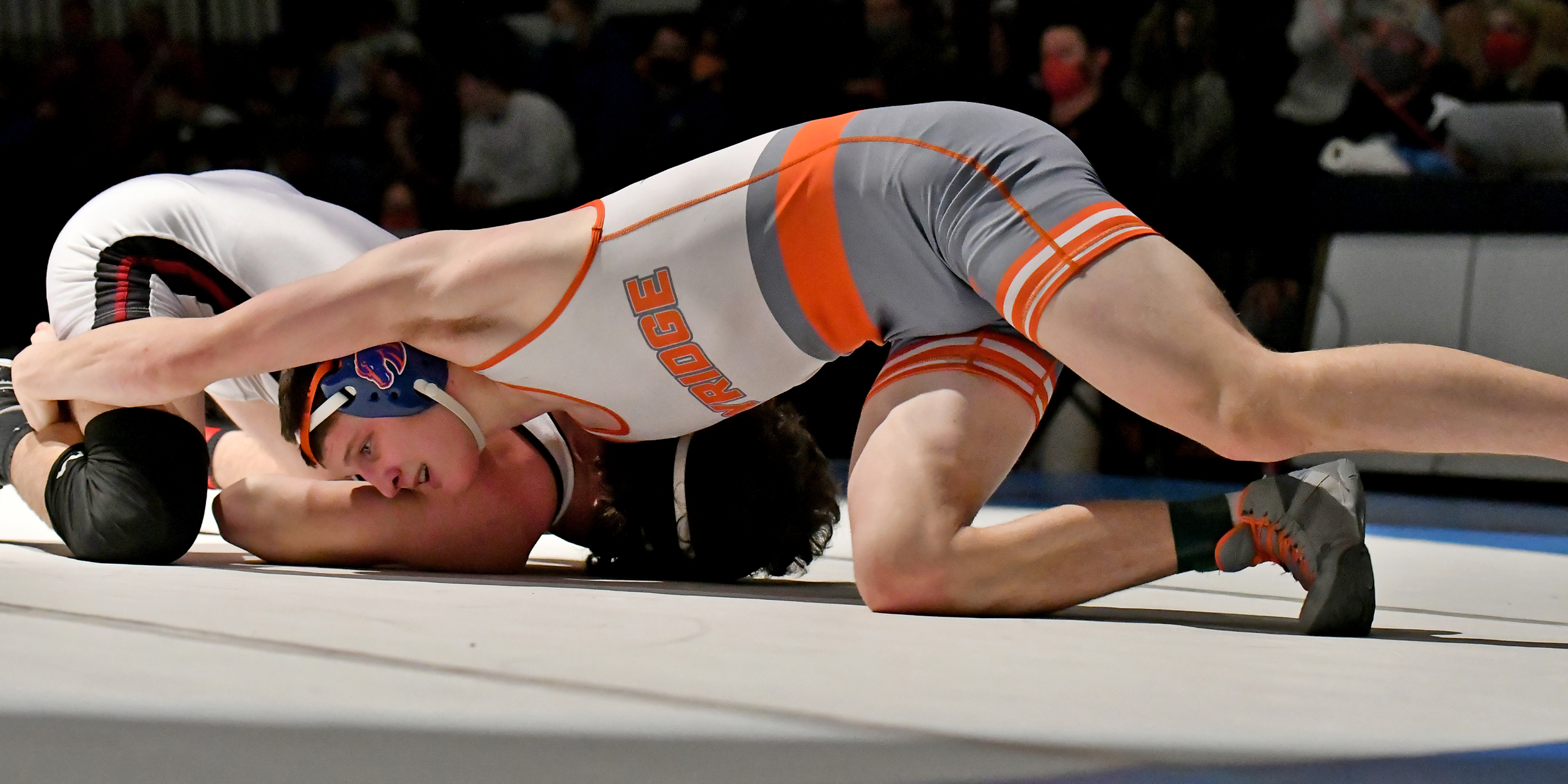 The Skyridge wrestling team produced one state champion and two other medalists as the group finished eighth with 89 points at the 6A state tournament Feb. 19 at Corner Canyon High School. Ten out of 12 entrants won at least one bout.
Pleasant Grove earned the 6A title with 278 points.
Falcon junior Josh Millward capped a brilliant campaign by earning the state title in the 145 weight class. He lost just one match during prep competition and was named 6A's Outstanding Wrestler.
"Josh Millward had a fabulous season," said Skyridge Coach Lyle Mangum. "He pinned 42 out of 47 wins, with most being in the first period."
Millward got his state run started by pinning Layton's Juan Navia at 1:30 in his first bout. He defeated Lone Peak's Brooks Wilde by fall at 1:18 in the quarterfinal.
In the semifinal, he scored a pin at 1:41 over Layton's Andrew Crowther, then secured his title with a fall at 3:20 over Benjamin Brown of Northridge in the championship match.
A pair of brothers placed for the Falcons, as freshman Cayaen Smith finished second in the 170 weight class while sophomore Mahkyi Smith came in third in the 160 weight class. "They both had really good shots at winning and will be highly ranked entering next season," the coach said.
Cayean defeated American Fork's Ryan Ridge Durrant by fall in 28 seconds to open his state meet. In the quarterfinal, he pinned Westlake's Paxton Schramm at 4:36.
He retired Roy's Reilly Knable by fall at 3:08 in the semifinal but lost a narrow decision to Corner Canyon's Kameron Moss to end up second.
Mahkyi took just 1:20 to best Gabriel Mabin of Syracuse in the first round. He faced Lone Peak's Ethan Rugg in the quarterfinal and pinned him at 3:22.
He lost a one-point decision to Granger's Park Beeler in the semifinal but recovered to win a 5-3 squeaker over Jordan Faifai of Syracuse to secure third place.
Here's the results for the rest of Skyridge's state entrants by weight class.
At 106, sophomore Aaron Fox lost his two matches but the second was a close two-point decision and he made the tournament with just 20 varsity matches to his credit.
At 106, junior Erol Yellowhair got started with a 10-3 decision over Layton's Andre Oster. He lost to American Fork's Wade Meacham in the quarterfinal. His final match went to overtime and was won by Clearfield's Jeffrey Anderson in sudden victory.
At 113, junior Nikolas Jepperson was eliminated in two rounds.
At 120, junior Brayden Jacobson lost in the first round but bounced back by pinning Jordan's Chance Mangrum at 3:23 in the next match. He exited the tournament after falling to Fremont's Koen Musselman.
At 126, sophomore Tyler Rex went to the consolation bracket after a first-round loss but then won a thrilling 2-1 decision over American Fork's Logan Diether. Sutton Brown of Syracuse ended his day in the next bout.
At 145, sophomore Billy Ferguson also fell in the first round but triumphed in an exciting 7-6 victory over Jordan's Trevin Williams. He lost to Pleasant Grove's Trevyn Gates in his final match.
At 170, junior Jaxson Robson dropped to the consolation bracket after his opening bout but then pinned Jordan's Kaden Bartle at 3:27 in the next match. He finished after losing a close bout to Lone Peak's Kadin Stosich.
At 195, junior Matthew Taylor lost a narrow decision in the first round but then scored two successive falls over Carter Hatch of Copper Hills at 4:36 and Northridge's Jacob Rosencrantz at 2:34. He was eliminated by a two-point loss to Fremont's Weston Miller.
At 220, sophomore Elijah Teriipaia was able to participate despite sustaining an injury at the regional meet. He lost in the first bout but then pinned Layton's Brandon Galvez at 2:46. He fell to Corner Canyon's Teancum Mitchell to end his participation.
"I felt overall that we had a really productive season," Mangum said. "We finished 21-8 in duals and finished eighth in the State Tournament. With such a young team it will be a great benefit going into next year. We scored 89 points at state and get all of those points back.
"Matt Taylor and Erol Yellowhair were one match from placing and everyone battled hard," he continued. "The kids had to overcome a lot this season with all of the COVID situations and testing, but they stayed positive and it paid off. I was proud of the way they handled themselves during this time."
The coach has planned a lot of off-season wrestling and a busy summer for his athletes. "I feel that it will be a great foundation for the upcoming year," he said.
"I would like to thank my assistants, Brian Bond, Troy Josie, and Ivan Smith for all of their help during the season," Mangum added. "They are a great crew, along with some amazing managers and administrators who have helped us continue to grow as a program."