Lehi and the Murdock Canal Trail: An unexpected Utah cycling crossroads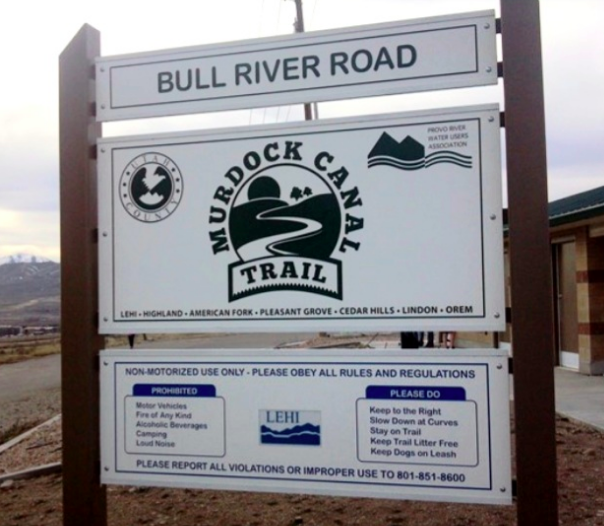 For a hundred years, the open Murdock Canal stretched from Provo Canyon to the Point of the Mountain. Begun in 1911, it was an engineering miracle. The original canal was scraped and dug by oxen, horses and significant manual labor. The canal helped moderate the often-dangerous Provo River runoff and brought precious water to the fertile but parched soil around Lehi. The canal has become a reliable source of irrigation water, and Lehi has significant dependence on its continued flow.
Stories abound of risky recreational activities involving the open canal. Many years ago, I had a waterskiing experience on the canal, holding tightly to a rope attached to a friend's pickup truck as he drove along the canal's adjacent service road. I've heard of folks waterskiing in the Murdock Canal behind a rope tied to the saddle horn of a galloping horse. Both methods were certainly unsafe, and I consider myself fortunate to be alive to write about it now. Too many injuries occurred, and sadly some lives were lost as people came into contact with the Murdock Canal's murky waters during those 100 "uncovered" years.
Everything changed about ten years ago when approximately one billion dollars was spent to move the canal underground into a 17-mile long 126-inch steel pipe. In 2012, after extensive testing, the pipe was covered and given an "asphalt crown," creating the beautiful Murdock Canal Trail, another engineering miracle. Officially opened in May 2013, the Murdock now provides safe recreational opportunities for cyclists, pedestrians and equestrians. Fortunately, safer nearby waterskiing venues include Utah Lake, Deer Creek Reservoir and other static water bodies friendly to that activity.
The Murdock Canal Trail intersects or connects with other regional trails, including the Provo River Parkway in Orem, the Jordan River Parkway at Thanksgiving Point and the Historic Utah Southern Rail Trail near the corner of SR-92 and Triumph Boulevard in Lehi. With the recent Interstate 15 upgrade between Lehi Main Street and SR-92, trail users now have modern and safe bridges to avoid motor traffic. Work is progressing on a spectacular pedestrian/cycling overpass of the Historic Southern Rail Trail across Timpanogos Highway. That connection will provide access to the Porter Rockwell Trail at the Utah-Salt Lake County line at the Point of the Mountain. Another pedestrian/bike overpass will soon carry the Rail Trail across Triumph Boulevard.
As a pretty determined cyclist, I enjoy living close to the Lehi Center Street access of the Murdock Canal Trail, just north of Skyridge High School. There are several choices for 10, 25 or 40+ mile round trip rides. Whether I take the trail southeast toward Orem or west toward Thanksgiving Point, I can connect to several additional trails and hundreds of miles of safe, quality cycling trail. I share the path with thousands of equally determined walkers, joggers and equestrians. For the most part, we are safe and enjoy each other's smiles and waves.
So, where is this article going, you might ask? I've agreed (and am honored) to write a few articles about the various rides accessible from the Murdock Canal Trail in Lehi. I'm looking forward to sharing a few cycling adventures and also some photos. I'll do my best, but if some of you who frequent the trail notice if I leave out something important, please call it to my attention, and I'll try to include it in the next article.
About the author: Rob Brems, a retired educator and part-time consultant, grew up in Lehi and has lived here most of his life. Rob, and his wife Laurie, enjoy seeing the world astride their mountain bikes, road bikes, and most recently, e-bikes. They have cycled in many locations across the country, Europe and the South Pacific, but to them, no place exceeds Utah's beauty as viewed from their bikes on local trails.