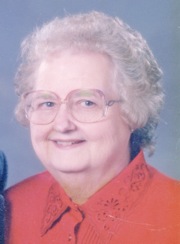 June Erickson Smith was born June 29, 1928 to George Henry Erickson and Myrtle Bone. She died January 18, 2017 at what she called an "amazing age" of 88. She was truly amazed she lived so long on the planet.
She was born and raised in Lehi, Utah, went to Lehi schools, graduating from Lehi High School in 1946 and never lived more than 10 miles from the family home. She met a handsome sailor named Lewis K Smith while standing on a corner on Lehi Main Street during the summer after graduation and they were married December 2, 1946.
Together they parented four children: Marjorie June, Lewis Stephen, Colene Marie, and Gary Keith. She was active in the LDS Church serving in the Relief Society and Primary. After retirement, June and Lewis were called to a Service Mission at LDS Employment Center in American Fork and later served as an ordinance worker in the Mt Timpanogos Temple.
She worked both at home and for others at Broadbent and Sons Department Store, General Refractories, Press Publishing, and Alpine School District, where she retired.
Throughout their lives, June and Lewis enjoyed traveling, especially with family — their children, Larry and Nadine, Forrie and Elaine, Dick and Dorothy. They travelled to visit relatives, bring home fire trucks and busses, as well as many car trips. She was especially delighted to share that on one trip they traveled a whole 80 miles in one tiring day. It was spent stopping at shops along the Oregon coast. They continued to enjoy trips until the passing of Lewis in 2007.
June also enjoyed reading, tole painting, ceramics, sewing, crocheting, quilting for grandkids, and visiting with family and friends.
She was the grandmother to Chris, Jon, Jackie, Alan, Troy, Clayton, Nathan, Natalie, Zane, Wyatt, Travis, and Marshall. Great-grandmother to Noah, Savannah, Zoie, and Jaxson, Courtni, Brayden, Bryson, Vincent, Greenlee, Brinley, Dominic, Ashlee, Madison, Zachary, Joshua, and Brooke.
She is survived by her younger brother Larry, and his Nadine; Sons and wives: Steve and Marie, Gary and Rebekka; Daughter Colene, 11 Grandchildren and 15 Great-grandchildren as well as many nieces, nephews, and loved ones.
She was greeted on the other side by husband, Lewis; Daughter Marj; Grandson Zane, Great-grandson Joshua; her parents Henry and Myrtle, Sisters Marie, Thella, and Lela, Brothers Keith and Floyd and their spouses.
A viewing was held Sunday January 22, at Wing Mortuary. The funeral was held Monday January 23, 2017 at 11 am at the Lehi Utah East Stake Center.
The family would like to thank Highland Glen Assisted Living, where mom has lived for the past year, and Mark and Lisa from Valeo Home Health and Hospice fo