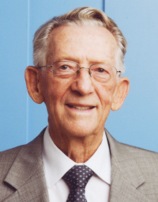 After a life of service and adventure, DeVere A Fowler passed away Tuesday, January 24th at the age of 82. He was born December 8, 1934 in Lehi to Daryl and Catherine Christensen Fowler, the youngest of ten children. Dee graduated from Lehi High School in 1953 where he was Senior Class President. This is where he met Karlyn Evans, and on November 30, 1954 they were married in the Salt Lake Temple.
He was employed at Galigher Co. and owned a manufacturing business in Lehi. Dee was the Bishop of the 4th Ward, a temple worker, High Priest Group instructor, and loved working with the Boy Scouts. He was President of the Tibble Fork Cabin Owners Association and a member of the Sons of the Utah Pioneers.
Dee is survived by his wife of 63 years and his 6 children: Paul (Dawn) Fowler of Salt Lake City, Larry (Sheryl) Fowler of Highland, Utah, Bret (Wendy) Fowler, Julie (Mike) Palmer, Annette (Doug) Steeneck, Greg (Tresa) Fowler all of Lehi, 25 grandchildren and 13 great-grandchildren. He is also survived by a brother, Ed Fowler, of Oregon, and sister Shirley Bell, of Alpine, Utah.
Funeral services were held January 30th at 11 a.m. at the Lehi Stake Center. A viewing was held at the same location Sunday evening and on Monday at 9:30 a.m. Interment, Lehi City Cemetery. Online guest book at wingmorutary.com.