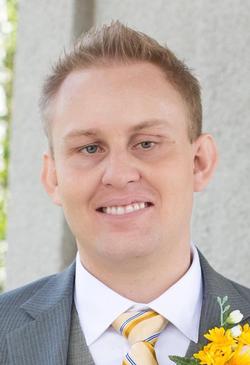 Danien Lee Martin, 29, passed away on January 24, 2017 in Salt Lake City, Utah. He was born on January 15, 1988 the oldest of seven children, to Scott and Cinda Martin in Provo, Utah.
On April 1, 2014, Danien went on a blind date with Kiri Maxfield. This was the beginning of a wonderful relationship and they were married on September 5, 2014, in the Mt Timpanogos Temple. Since that time Danien has always referred to Kiri as "My Bride."
Danien attended and graduated from Lehi High School. During his high school years, he swam on the Lehi High Swim Team. After graduation Danien served an LDS Mission to the Colorado Springs, Colorado Mission for the Church of Jesus Christ of Latter-day Saints. He loved serving the people in the San Luis Valley. Danien made many friends while serving there and he continued those friendships even after his mission. When he returned home from his mission he decided to go into the medical field. He earned an Associate's Degree in Nursing and was enrolled at Ameritech to receive a Bachelor's Degree. Danien was working for Fairview Care Center, serving as a volunteer Fire Fighter for Lehi City, and was also a Medic for the Utah County SWAT Team.
He enjoyed 4-wheeling, riding snowmobiles, researching anything medical, target shooting, playing his guitar, writing music, and serving others.
Danien is survived by his wife Kiri, parents Scott and Cinda, siblings; Bailey (Carlos) Puerto, Jordan (Sean) Clawson, David (Breanne) Martin, Elija Martin, Joshua Martin, and Joseph Martin, nieces; Penelope, Sawyer, Morgan and Brooke, nephews; Ashton, Kyson and Jackson, grandparents; David Huffman, Mike and Barbara Petersen, father and mother-in-law Troy and Tracy Maxfield, sister-in-law Mariah (Justin) Swenson, brother-in-law Anthony (Rebecca) Maxfield. He was received on the other side by his Grandma Danielle Huffman and Aunt Shirley Brennan.
Danien loved his family and spending time with them. He had a strong testimony of the gospel of Jesus Christ and will be greatly missed by his family and friends. Funeral services were held Saturday, January 28, 2017 at 1:00 pm in the Lehi East Stake Center, 851 North 1200 East. Interment, Lehi City Cemetery.