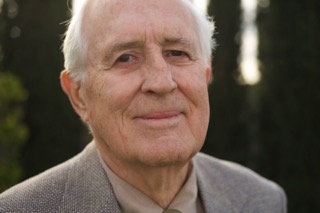 Jay Cyril Bell was born in Salt Lake City, Utah on April 26, 1930 to Helen Lenore Johnson and Harold Cyril Bell. Jay passed away surrounded by his beloved family at his home in Alpine on March 6, 2016.
He was a Caveman at American Fork High School, playing football, running track, and held the state record for the javelin throw. Attending a basketball game, he met the love of his life, Shirley Fowler, a student at rival Lehi High. He was brought to her attention as the "guy with the yellow socks." This simple beginning commenced a magnificent life together, now married 66 years, full of love, adventure, and service.
At the age of 20, Jay embraced the restored gospel of Jesus Christ and was baptized a member of the Church of Jesus Christ of Latter-day Saints. Shirley and he were married on September 1, 1950 in Lehi, Utah, and a year later sealed for time and all eternity in the Logan, Utah temple.
In 1954, he accepted a position with the Union Carbide Corporation that gave him the opportunity to live and work across the country, including Los Angeles, Seattle, Chicago, Cleveland, New York, San Francisco, and Portland. He retired from the company when he bought their Portland distributorship which they named "BellAir." While developing his career, Jay and Shirley welcomed five wonderful children into their family. This family unit became the grounding influence and driving force of their lives. As a family, they bonded through outdoor recreation, spending summers boating and camping throughout the country, most notably at Lake Shasta, CA. Over the years, their family grew to include spouses, 11 grand-children, 25 great-grandchildren, and the many dear friends who became part of the family.
Jay fulfilled many positions of service within his church community, serving as bishop in Bay Village, Ohio and Lake Oswego, Oregon as well as many years on the high council in a variety of stakes. Shirley and he served two full-time missions to London, England and Baguio, Philippines, attending to both the spiritual and temporal needs of many. They served together as ordinance workers in the Portland and Mount Timpanogos Temples.
He was preceded in death by his parents, brother Jimmy and sister Joyce, his children Jeanette, Blake, and Christy. He is survived by his wife, Shirley Fowler Bell, children Darin Jay (Saralinda) Bell, and Julie Ann Bell, grandchildren Jennifer Habel, Todd (Julie) Bell, Marissa (Alan) Peterson, Paula (Kearney) Hoggan, Summer (Mike) Spokes, Lindsey Ann Burnett, James Jay Burnett, Christian Bowen, Nate Bowen, Sumner Bell, Soren Bell, and 25 great-grandchildren.
Funeral Services were held Saturday, March 11th, at the Alpine 6th Ward Chapel. Interment, Orem City Cemetery, 1520 North 800 East, Orem. Funeral Directors: Utah Valley Mortuary. Condolences may be expressed to the family at www.uvfuneral.com.