Fire devastates Northeast Lehi home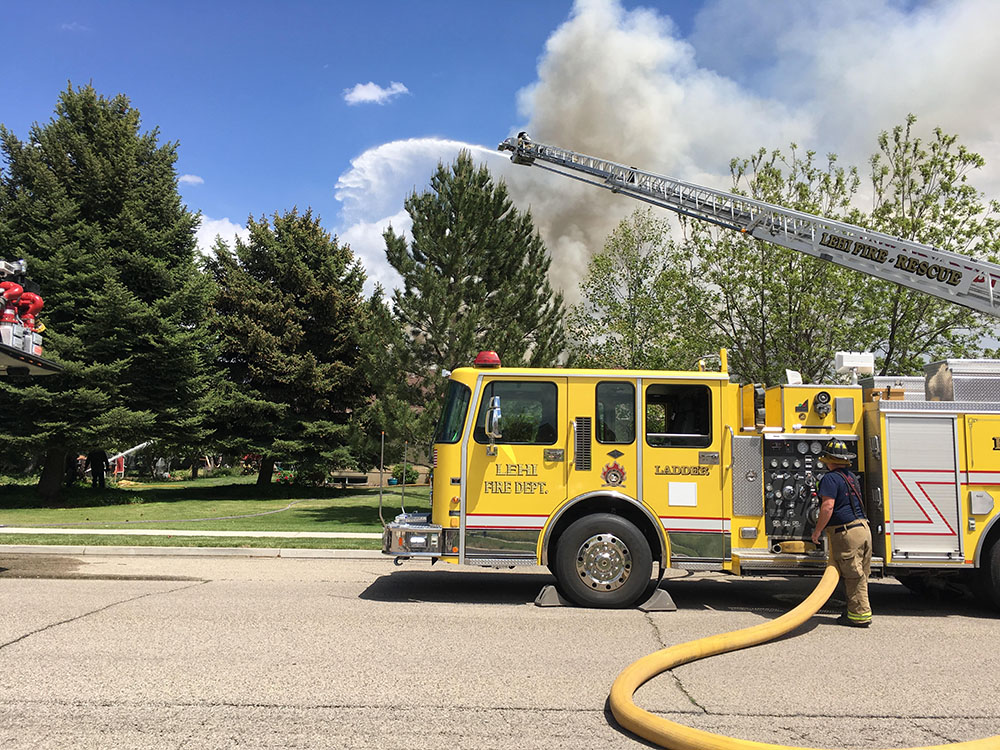 A family of six is without a home in the wake of a devastating Lehi house fire on Thursday, May 25, which destroyed nearly everything inside.
None of the family of Brett and Jana Young were at home when the fire began, but a workman was finishing a painting job in the dining room of their house near 2600 North.
"I smelled something strange, like wires or something, but there's all this construction going on so I didn't really think too much about it," said the workman, Victor Mayen. He was talking to his brother on his Bluetooth phone while working, and reported experiencing some kind of blackout. He felt all of a sudden like he was waking up, hearing his brother talking and not knowing what he was saying or how long he'd been talking.
That's when he saw the smoke. "I saw like a chimney of smoke coming up from the kitchen sink," he said, "I thought there were kids so I ran toward the bedrooms. When I got to the stairs I saw all this black smoke coming up from the basement."
The painter ran to the front door, opened it, and yelled to a neighbor on her driveway across the street, "Call 911!" When he turned around to go back, the smoke was too thick to see anything.
Across the street the neighbor, Cassidi Lehmberg, was visiting with her friend, Sara Berendson. "I was dropping something off to Cassidi and we were chatting," said Berendson. "I heard a buzz like a smoke alarm or something and he came running out." While Lehmberg called 911, Berendson called her brother, who is on the fire squad. Thanks to Sara's call, the firefighters got a head start before the official call came in.
Officer Tyler Prawitt of the Lehi City Police Department said the fire and police departments received the alert at 2:03 p.m. Firefighters battled the flames for over an hour later and continued working at the house until well into the evening.
The homeowner was Brett Young, a fire fighter for West Valley City. Young was responding to a call for his department when he got the call about his own house.
Estimates of the total cost of damage won't be determined until later in the week, but homeowner Jana Young said the whole basement was consumed, with the combination of fire and water causing the attic to collapse onto the main floor. Nearly everything was destroyed or severely damaged. The family was two days away from finishing a 6-month remodel.
Jana said they've received wonderful support from family and friends and feel very grateful to all of them.
The Fire Marshall said the cause of the fire is undetermined, but the family thinks it was started by a son's hoverboard, which was plugged in and charging.