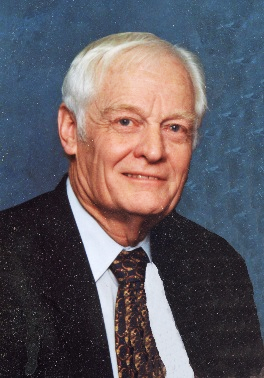 Harold Chipman Fox passed away Tuesday, May 30, 2017, at his residence at Spring Gardens Assisted Living in St. George, Utah. He was born December 19, 1932 in Lehi Utah, the second of three children, to Edith Chipman and Harold M. Fox. His childhood years in Lehi were rich with lots of fun times with family and friends. He enjoyed family trips to the west desert, American Fork Canyon, and his uncle's farm.
Harold graduated from Lehi High School in 1949 and attended Brigham Young University before being drafted in the U.S. Army. He served two years, part of that time in Italy. Returning home from the army he met Mary Aubie Weber who had moved to Lehi to attend Brigham Young University. They fell in love and were married August 29, 1957 in the Salt Lake Temple.
Harold graduated from BYU in mechanical engineering. They lived in Salt Lake City while Harold worked for Hercules. When that job ended he took a job with Ling Temco Vought in Detroit and later worked for Ford Motor Company. While in Detroit he and Mary found time for golf, bridge, and travel. As a hobby, he took up deep sea diving. He explored the bottom of the Detroit River as well as spots in the Caribbean.
Family seemed too far away and in time the couple moved to American Fork, Utah and Harold worked for Tooele Ordinance Depot. Upon retirement, they built a home in St. George where they lived for 15 years.
Harold was an active member of The Church of Jesus Christ of Latter-day Saints. He held many priesthood positions including a member of the bishopric and a member of the high council. He and Mary also served a local mission for the Church. He was fun to be with and was loved by his nieces and nephews. His family and many friends will miss him. His wife, Mary, preceded him in death. He is survived by his sister, Phyllis (Keith) Frogley; brother, William (Patricia) Fox; and nine nieces and nephews.
Funeral services will be held Saturday, June 10, 2017 at 10 a.m. at the Northbridge LDS Ward Chapel, 1080 West Arlington Street, Washington, Utah. A visitation will be held Saturday, prior to services, at 9:00 a.m. at the church. Interment will be in the American Fork City Cemetery Saturday, Jun 10 at 3 p.m. Arrangements entrusted to the care of Metcalf Mortuary, for condolences and full obituary, please visit www.metcalfmortuary.com.
The family thanks the staff at Spring Gardens Assisted Living for their loving care of Harold. A special thanks to good friend Tami Peterson, who served as a caretaker, companion, chauffeur, nurse, and confidant.