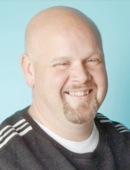 Christopher Norman Long, born April 19, 1971, has returned to our Heavenly Father after years with his courageous battle with Aplastic Anemia, blindness, and many other issues. He passed away on June 7, 2017.
Chris married his sweetheart and best friend, Brook Ann Turner, June 14, 1996, in Lehi, and later eternally in the St. George Temple, June 14, 2000. Chris and Brook love each other very strongly, and can't wait for that sweet reunion.
Chris is an amazing man, spiritually strong, compassionate and would give you the shirt off his back. Chris had a God given talent of music. He loved to play the piano. Chris showed his love of the Savior through his piano playing and his voice. Chris was a hard worker and wonderful provider until he could no longer physically do so. Chris loved learning, airplanes especially, and worked in the aerospace industry until he was blind in 2010. Chris was funny, making voices, teasing, playing with his kids–he could always make you laugh!
Chris and Brook adopted three beautiful children, Riley Ann 13, Kenley Colleen 12, and Cody Jay 10. Chris loved his children more than life itself, wanting everything for them, teaching them, sharing his testimony and love of the gospel. Chris was an amazing foster father, treating each child that entered his home as one of his own.
In 2010, Chris became legally blind, and was no longer able to work. In 2014, Chris' body stopped making blood cells (Aplastic Anemia) rendering him weak and frail, he had a lobe in his lung removed, and after hundreds and hundreds of transfusions, chemotherapy treatments, test drugs, heart attacks, kidney failure, fractured hip, unable to work or use his hands to play the piano, he fought, he fought hard for four years. He usually had a smile on his face, a joke on hand, and still worried about being a good provider and husband.
Three days prior to his death, as he was in pain, unable to get comfortable, couldn't breathe…he worried about Brook's Birthday and making it right for her, singing to her through the pain, as they expressed their love. This example is how Chris lived life–selfless and loving. He will be missed greatly, no one will fill his shoes in our hearts.
Chris is preceded in death by his mother Stella Yvonne Long, sister Michele Long, brother Mark Long, and brother Daniel Long. He is survived by his wife Brook Turner Long, daughters Riley Ann (13) and Kenley Colleen Long (12), and son Cody Jay Long (10), his father Albert Richard Long, mother Mildred Louise Long, brother Jeff (Sidney) Long, sisters Desiree (Eric) Spotted Elk, Jennifer (Robert) Prince, Courtney (Greg) Zalanka.
Funeral services were held Monday, June 12, 2017. Online guest book at wingmortuary.com.