Emmalee Dubois competes in National Rodeo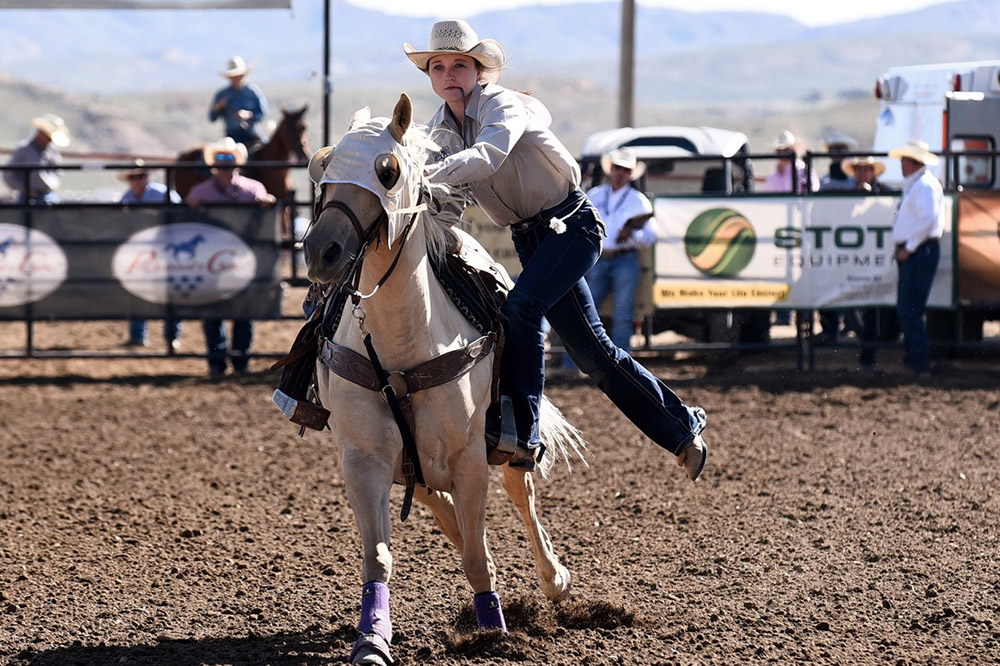 The National High School Rodeo Association (NHSRA) had their annual national rodeo in Gillette, Wyoming, in July and Lehi City's Emmalee Dubois was part of Team Utah, competing in goat tying. Dubois came in third place in the first round and ended up in seventh place overall in her event.
Rodeo is not recognized by high school athletics, so the NHSRA was created to give high school-age rodeo competitors a chance to earn scholarships and participate at a high-level in their sport. Over 1,500 contestants from the 47 states/province associations compete at the annual NHSRA rodeo for national titles, awards, and scholarships. Emmalee Dubois has a full tuition rodeo scholarship to Utah Valley University this fall thanks to her goat-tying skills.
Dubois and her 13 year-old horse, Dunny, have been working together since Emmalee was five years old. She started out tying a "dummy" goat and graduated to live goats at about age nine. Emmalee's Mom, Ann Dubois, competed in goat tying in high school, so Emmalee had a live-in coach from the beginning.
In the official goat tying event at the national rodeo, the goat is tied to a stake with a ten-foot rope. Contestants must be mounted and ride from the starting line to the goat, dismount, throw the goat by hand and tie any three legs together with a leather thong or pigging string. The judge waits six seconds to make sure the goat is securely tied before recording the time. Emmalee Dubois's best time so far is 6.3 seconds. She has been clocked at 30 miles per hour on her horse getting from the starting line to the goat. "Drawing one bad goat in any of the rounds can really ruin the whole competition," said Emmalee. If the goat kicks out of the tie, the contestant's time is not recorded.
The whole Dubois family (Justin, Ann, Emmalee, Amanda, Cole and Kade) stayed in one of the horse trailers during the week-long national rodeo. They are heavily invested in each other, supporting all the events of every family member. Although it does appear that Emmalee has lost the friendship of the goats on their farm.
Being part of Team Utah at the national rodeo made Emmalee a little more nervous than normal because she felt the pressure of not letting the team down. "It was intense – there were people there from all over the world," said Emmalee. She loves the adrenaline rush of competing though, and she's having a lot of fun. Emmalee Dubois will study business at UVU and plans to start her own horse training business at the family farm.