Pioneer alumni Repertory Co. performs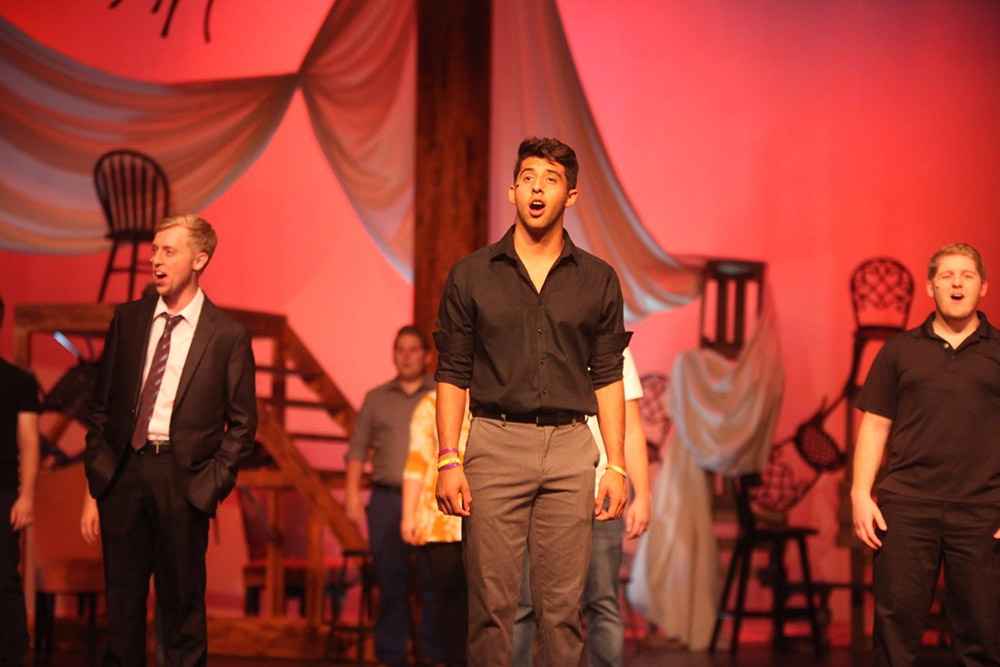 Once high school is over, graduates are often left without an opportunity to perform. Lehi High School's Drama teacher, Mindy Nelson, not only keeps in touch with her former students, she gives them an opportunity to reunite and perform together every year.
The Pioneer Alumni Repertory Company held their annual concert at Lehi High School last Friday and Saturday night, August 18 and 19. The theme for the concert was "Humanity" and former LHS students could choose any song or reading they felt fit the theme. The performers came to the limited rehearsals polished and ready – they did all the work. Randy Blackburn, long-time artist-in-residence and theater mentor at LHS, designed the set in one day when he saw that they were planning to use a plain black curtain for the background. Blackburn also performed in The Funeral Parlor with Maddie Beck, to the crowd's delight. They especially liked his throw-away exit line, "Where's the funeral potatoes?!"
The program was book-ended by two ensemble numbers the former classmates clearly enjoyed doing. Some graduates have gone on to hone their skills in college, like Alec Powell. Powell served as musical director for Humanity and was featured in several numbers, including one where he accompanied Mason Holmstead singing Alan Menken's "Sailing On" on the piano. The audience was just as happy to see these former students performing together again.
Among the more serious readings and songs was a scene and number from Spamalot, "Bright Side of Life." That performance featured two former theater students who are now married to each other, Kalin Taylor and Jaden Bliss Taylor. Along with the Taylors, Kyson Taylor, Sylvie Taylor, Jessa Bliss and Sabrie Taylor pulled off some impressive whistling and a kick-line with twirling umbrellas.
Director Mindy Nelson is definitely living as she believes, "Humanity to me is the necessity to come together as a community. It's a collective of people who search for and provide compassion, love, healing, support and its efforts are as far reaching as the world is wide. I believe that art and performance can not only shed light on the problem and the solution, but can be a major force in causing social change and those hidden in the dark to be brought into the light."
The Pioneer Alumni Repertory Company ended their concert by combining forces with current LHS theater students for the song, "What's Next." The number was a sneak peek at the upcoming LHS production of Big Fish this fall.