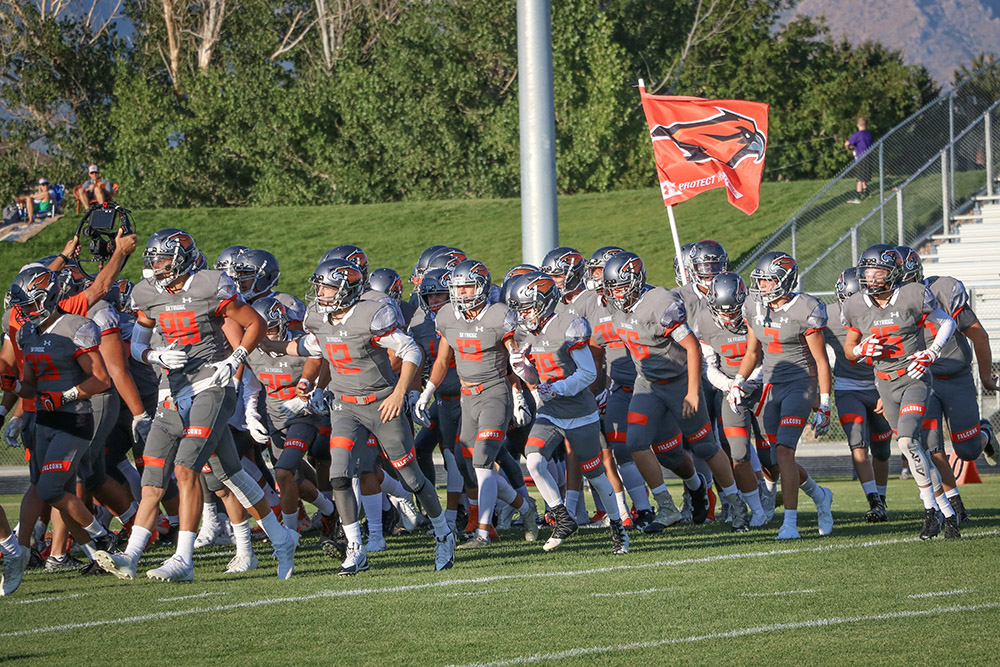 Coming off a blowout win against Riverton, the Skyridge Falcons were looking to keep the momentum against the Murray Spartans. They did.
Skyridge traveled to Murray and absolutely shredded the Spartan defense. The Falcons started scoring right from the get go—which is necessary if you're going to put up 60 points on the scoreboard. They tapered a little in the second quarter, but another rally from the coaches in the locker room sparked the flame to several more end zone drives.
With quarterback Jayden Clemons holding steady in the pocket, and showing off a strong arm to several receivers throughout the game, it was impressive to see the Skyridge offense come alive and score.
Equally impressive was the defense that Skyridge fielded. Just like their last game against Riverton, Skyridge only allowed 9 points. To some that may sound like a lot, but there's a lot of room for safety when you've scored 109 points in just two games.
It's hard to tell what's more impressive, the fact that in just two games the Skyridge offense has scored over 100 points, leading their region with the most points scored thus far, or their defense, which has allowed only 9 points, the fewest in the region behind Wasatch, who has only played one game.
So, from those stats alone, it looks like Skyridge has a lot of promise; and with the athletes they have on both sides of the ball, like Jayden Clemons, Nathan Upham, Garrett Rusick, Jaxon Peck and others, the Falcons are looking to be a real powerhouse this season. Especially in their region.
Skyridge's offense, defense, and all-around performance seems to be red-hot with the help of a great coaching staff. They look to keep the winning streak alive this Friday against Roy at home at 7:00 PM.