Pioneers scrape by Pine View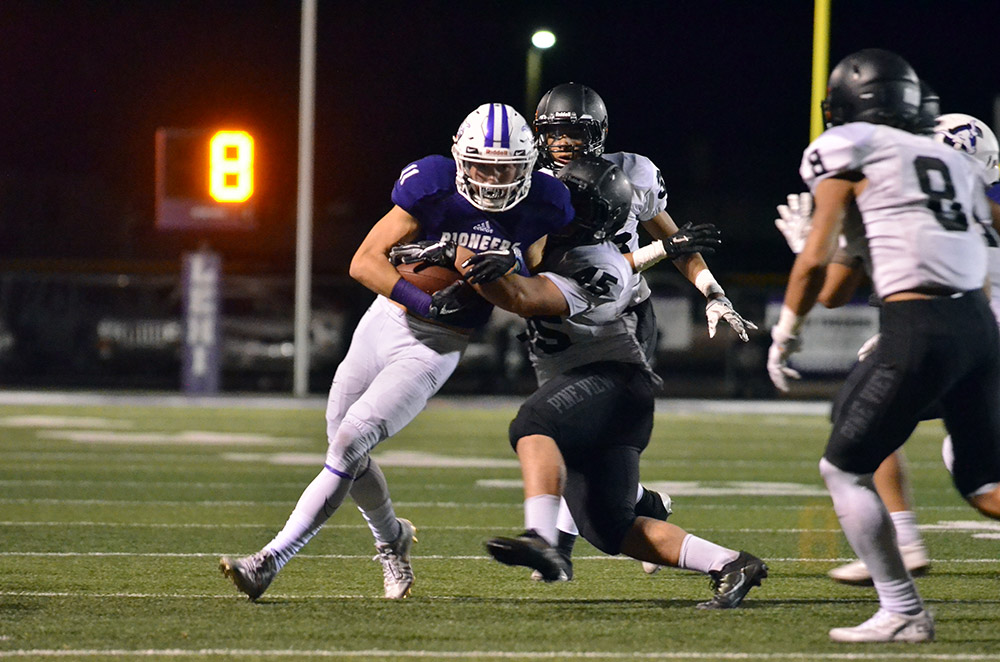 The Lehi Football team met on the gridiron this past week with the Pine View Panthers in a penalty ridden, somewhat sloppy display. The stands were packed with fans for Lehi's home opener. Many came to see the offense that was so outstanding against Alta the previous week. However, the offense just didn't seem to come alive for Lehi on Friday. The Pioneers were hindered by penalties, dropped passes, and other setbacks. Head Coach Ed Larson was clearly frustrated with his Pioneer offense after the game, even though his boys came away with a 21-14 victory.
Cammon Cooper connected for touchdowns in the first quarter to receivers Dallin Holker and Cade Moore, but the scoring went silent until another touchdown pass was thrown to Moore in the third quarter for what would be Lehi's last touchdown of the night.
Cooper threw three interceptions during the game. Two of those pics could be chalked up to bad luck since both balls were tipped in the air and fell into the hands of waiting Panther defenders.
A key play in the game was a missed field-goal by the Panthers in the 4th quarter that seemed to take the wind out of the sails for Pine View. Following that, and throughout the course of the game, Lehi's defense, with key help from Will Overstreet, held the Pine View offense at bay to maintain Lehi's lead.
Receiver Cade Moore, who is credited with two of the three Lehi touchdown catches said, "There's things we've got to tighten up" when asked about the Lehi performance. He admitted there were passes that should have been caught, but with a confident and optimistic outlook said, "we'll make the adjustment and keep going".
As one of Cooper's go to receivers in the majority of big Pioneer offensive drives, Moore played a key role in the game, as he and Holker were key to the win over Pine View.
Last Friday's game may not have been the most solid win for the Pioneers, but they do move to a 2-0 record and look to make it 3-0 this coming Friday against long-time rival Lone Peak.