Dry Creek Elementary launches The Orion Project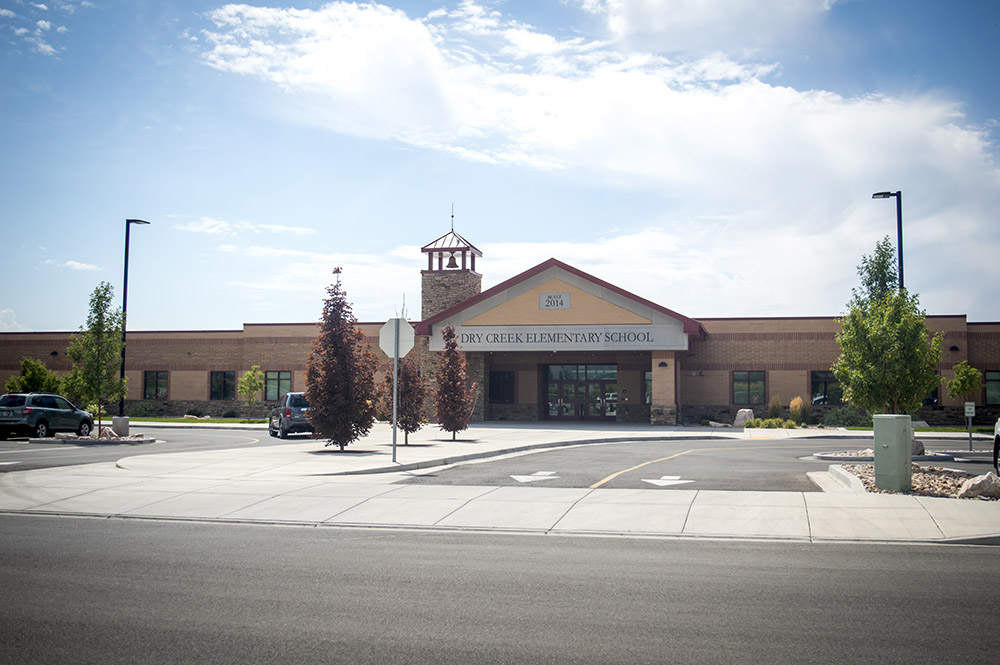 As the new school year gets underway, so will a new program at Dry Creek Elementary. Students will experience more hands-on projects and a systematic curricular effort to tie subjects together, and some fourth-graders will even begin the year with an empty classroom which they will design themselves, with input from teachers and a design company.
Dubbed "The Orion Project," it Dry Creek's version of the "21st Century Learning" programs being implemented across Alpine School District, including at Lehi's River Rock Elementary. The idea is to elevate the role of subjects in the STEAM subjects (Science, Engineering, Technology, Arts and Math), with a focus on preparing children for the workforce.
Students at Dry Creek will be doing more hands-on projects in fourth through sixth grades, while teachers in all grades will systematically "integrate" subjects.
"With an integrated lesson, it really means we're not doing so much teaching in isolation," said principal Sam Rencher. "We're connecting the curriculum so their learning will be more authentic."
He used as a basic example the subject of spelling. Instead of getting a list to study on Monday and being tested on it Friday, students might be given a "problem-based learning task" during which they will write about what they're learning and in the process learn to spell the words they use in their writing.
Incorporating projects and integrating a broad range of subject material in lessons are practices that great teachers have always employed. The hope is that with the new push such approaches can become systematic.
"The teachers are excited," Rencher said, noting that it will be important to make sure teachers get the necessary training and resources to transition away from the old model and into a new one.
While some parents may question why the changes are happening, Rencher said, part of the educators' job is to educate parents so they understand what the schools are doing and why. "This is a profession," he said. "We are not just making a guess. We have studied and researched and we are providing what is the best research base for what our kids need that we have. It is new, but it's the best we know at this point." The school community council and PTA organization have been included in discussions about the new program.
A unique feature of Dry Creek's program will take place in two fourth grade classrooms, where the goal will be to "model a 21st century learning environment." The students began the school year without the typical classroom setup. Instead, they will create their own classroom in concert with a professional design team and their teacher. "We're trying to have the classroom look more like a "21st century workplace," with tables, desks and places for students to meet in groups, Rencher explained.
Asked whether fourth grade students know enough to determine what they need for their own learning, Rencher expressed confidence in their abilities. He carefully selected the teachers who are leading the classrooms and the students were assigned to each class, rather than choosing to opt in.
Like River Rock Elementary, Dry Creek applied for a grant from ASD in order to begin the training and resources needed to implement the new program. The grant was funded in part by the STEM Action Center, a state program funded by the legislature. The organization states that it "prioritizes STEM education, which works to develop Utah's workforce of the future… The STEM Action Center will align technology and innovation with industry needs and higher education initiatives to ensure development of the future workforce."
The plan is to transition all elementary schools in ASD to this model over the next few years, then to follow with the junior high and high schools.
Joe Backman, Curriculum Director for Alpine School District (ASD), said, "Alpine's vision for student learning is that students will acquire all of the essential knowledge, skills and dispositions" for success in the 21st Century.
The "skills and dispositions are referred to as the "6 C's." The skills are covered by the first four C's: collaboration, communication, creativity and critical thinking. The dispositions are covered by the last two C's: character and citizenship. Backman and Rencher both emphasized the centrality of group work in this new approach being introduced throughout the district.
While Rencher expressed confidence that students currently graduating from school are well-equipped for success, he said the elementary students of today are in a different situation. "The world is changing so fast, we need to adapt. 65% of jobs these students will be getting have not been created. They need 21st century skills."
Some critics of the STEAM movement point out a scarcity of history or great literature in the approach. When asked about these subjects, educators acknowledge that they will still be part of the curriculum and are useful for teaching character. However one elementary educator underscored the concerns of those who are concerned about the minimizing of history and literature, saying that kids would probably read more biographies of scientists under a STEAM emphasis.
Washington Post columnist Fareed Zakaria argues that giving the humanities the prime spot in education is vital to maintaining both a functioning democracy and innovation.
Drawing on the example of prominent tech innovator, he points out that Mark Zuckerberg "was a classic liberal arts student who also happened to be passionately interested in computers. He studied ancient Greek intensively in high school and majored in psychology while he attended college. And Facebook's innovations have a lot to do with psychology," he wrote in an opinion piece in 2015.
Scott Carlson, Lehi's representative on the ASD Board, said that while there's plenty of enthusiasm about it being a new approach, he wouldn't consider it a complete overhaul. "I suspect you'll still see very strong, tried and true teaching methods," he said.
"I think it's really an experiment lab class opportunity," Carlson said. "It will give students the opportunity to apply what they're learning." Expansion of the approach will be rolled out in ASD a few schools at a time to make sure there are sufficient financial and support resources.